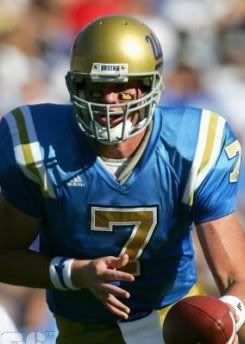 I'm kicking off a new series of articles for the blog. Over the next 6 weeks, I'll be previewing all 12 of UCLA's 2007 opponents and how I think we stack up against them. Look for a new article every Monday and Thursday (or thereabouts). To start off the series, I'll first take a look at our own team and talk about the strengths and weaknesses of the latest edition of Bruin football.
UCLA has a ton of returning starters (10 on offense and 10 on defense) and a
very experienced and deep roster
. This is really a make-or-break season for Karl Dorrell and the UCLA football team, as 2008 is sure to be a major rebuilding effort. The schedule is setup for a run at the conference crown, and the Bruins could be playing for a BCS birth for the first time in a decade.
The team was inconsistent last year, producing some incredible victories (Oregon State, USC, and ASU) and some ugly loses (FSU, Cal, and WSU). The Bruins led most of their games going into the 4th quarter, but saw some of those leads vanish as they faltered down the stretch (UW, ND, and FSU). Hopefully a wiser and more experienced group of players can put together a full 60-minutes of excellence on the field in 2007.
Offense
Despite returning almost ever player this season, there are still a lot of question marks surrounding the offense. This unit was a liability last season as both Ben and Pat struggled to move the ball. They were particularly ineffective in the red zone and that was a key area of focus during the spring. Unfortunately, they looked awful in the spring game and they still have a long way to go before being ready for the first game up at the Farm on September 1st.
Like most years in the Dorrell Era, we're starting off with a new offensive coordinator. Jim Svoboda was fired for
his conservative play calling
at the end of the 2006 campaign, and
Jay Norvell
, who was the Offensive Coordinator at Nebraska, is taking over the reigns. This will be Norvell's first season calling the plays and he looks ready to bring some changes to an offense that only ranked 7th in the conference last season.
The Bruins will be running the west coast offense again under Norvell, but with more of an emphasis on the shotgun. Jay has also introduced a more verbose and complex vocabulary for this team that will take some time for them to learn. In the spring there was an emphasis on speed and tempo, so expect them to get to the line faster and have fewer delay-of-game penalties and wasted timeouts. Norvell is also introducing single back sets with stacked wide outs. It should be a more pass-oriented and wide open offense this year, something that has been sorely missing the last few seasons.
Ben Olson
is back behind center and the big southpaw will finally come into the fall tagged as the starting quarterback. Olson has all the physical skills to be an NFL quality quarterback, he just hasn't been able to showcase them during his time in Westwood. He still has a ton of rust to shake off, only starting five games in the last five years. How Ben performs this year will be a huge factor in the success of this team. If the game can slow down for him and he can get comfortable in the pocket then expect this squad to improve immensely over the 56th ranked passing offense last season.
The offensive line saw a reshuffle in the spring, with a number of players shifting positions. Chris Joseph was shifted to center after starting 13 games last year at guard. Micah Kai, the talented and physical sophomore, will take over as the starting left tackle. The right side of the line has
Shannon Tevaga
and Noah Sutherland. The squad as a whole really struggled in the spring and they couldn't keep the Bruin's second-string defense off of Ben and Pat during the spring game. Hopefully a few months to absorb the new offense and a good fall camp will solidify this unit. They definitely have a lot to prove this season.
The receiving corps underachieved last year and I'm very glad to see DJ McCarthy and his hockey-style lineups gone from the program. New receiver coach Darrell Scott will be re-introducing a merit-based rotation that will keep our best players on the field and let them build a rhythm. Scott will have a nice mix of size, hands, and speed at his disposal.
While the wideouts look solid and balanced this year, they lack some of the game breakers of the past. We get back Joe Cowan from injury and he'll be adding some depth to this unit. Marcus Everett is a great route runner and has excellent hands and Brandon Breazell brings some speed. At this point, nobody really sticks out as someone who can change the course of the game and hopefully someone will step-up and claim that role this season. This group as a whole will need to make-up for a lackluster 2006 campaign.
Paulsen and Moya are back at the tight end spot. Neither is going to set the world on fire, but they should be a solid pair and give the Bruins a receiving threat in the seams. Some football analysts think that Paulsen could be a sleeper on this team who is poised for a big year. He looked good filling in for Moya after the Oregon game.
The final piece of the puzzle is the running game led by
Chris Markey
and fullback Michael Pitre. They did a solid, if unspectacular, job last year and a lot more will be expected from them this time around. There is a significant drop-off from Chris Markey to Kalil Bell, though I did read that Kalil had a good spring camp. Chane "the train" Moline is back as a short yardage specialist. The X-factor is Crenshaw star, and true freshman, Raymond Carter. There is a lot of hype around this speedster and he could find himself in the regular rotation by the end of the season. The running backs are going to have to find a way to score more touchdowns this year and break off some big plays.
Defense
The other side of the ball could not be any different. With Walker at the helm for his second season, and 10 returning starters, the Bruin defense is a known quantity. The squad grew by leaps and bounds in 2006 and they should be poised to have a huge 2007 campaign. They run a traditional 4-3 defense with a lot of zone and safety blitzes that leaves the corners on islands.
The strongest unit on the team is the talented foursome in the secondary. They return a lot of experienced players and some very hard-hitting and talented athletes. Walker's style of defense calls for a lot of man-on-man coverage, so these guys will carry much of the burden of this team. They are anchored by lock-down corner
Trey Brown
who has started the last 30 games.
Chris Horton
also brings a hard hitting mentality to his run-support role as a strong safety. Sporting news ranks them as the best secondary in the PAC-10, even ahead of USC's talented group.
The linebackers, once thought to be a liability, emerged as a tough and effective unit under
Christian Taylor
last year. Reggie Carter is one of the only underclassman starting this season and he should see a big improvement this year, with a full season under his belt. Whittington and Hale also bring experience and talent to round out the linebacker position. They aren't the biggest squad, but a lot of smarts and the leadership of Taylor makes them very formidable.
That leaves us with the defensive line, which is the only unit to lose a starter from last season.
Bruce Davis
is the star on the line and it is hard to believe that two years ago he was considering moving to tight-end and even leaving the team. Expect him to face a number of double teams this year.
Kevin Brown
should finally be over his ankle injury and he looked sharp this spring. Harwell and Brown have both bulked up in the off season, so maybe our undersized line won't be so undersized after all. The only mystery is the other end spot opposite Davis. Dragovic, who started early in 2005 before going down with a knee injury, will have to step-up and replace the productivity of Justin Hickman. It will be a big task as both Davis and Hickman had 12.5 sacks each last year.
Special Teams
This is the one area where the Bruins could really see some problems. Gone is the automatic Justin Medlock to the NFL and Kai Forbath is taking over. He
struggled a lot this spring
missing some easy ones from up close. Walk-on Jimmy Rotstein could take his spot if his struggles continue into the fall. In either case, the Bruins will have to find a way to get into the end zone a lot more regularly to take the pressure of these newcomers.
Perez is back for his 3rd season and he has improved his accuracy and distance. He nailed some big punts last year, including that booming 60+ yard shot against USC to seal the victory. The punt return role is still a work in progress but it looks like Ryan Graves has the job for now. Terrance Austin could take his spot back in training camp. UCLA will need to improve a lot in this area to help give the offense an extra boost.
We'll be starting over on kick returns as Williams and McGee, who both saw time on KR duty last season, are gone from the team. That might be a good thing since the Bruins ranked 6th in the conference last year barely getting over 21 yards a return. With the new NCAA rules moving kick-offs back 5 yards to the 30 yard-line, we'll probably see fewer touch backs. This a phase of the game where UCLA cannot afford to struggle. It looks like a host of players are auditioning for the job, including Alteraun Verner and Terrance Austin.
The Verdict
I think this is a team that can achieve double digit wins, but it will require the offense to really improve under Norvell. There's plenty of talent and depth on both sides of the ball and a ton of seniors in the lineup. Players tend to see their biggest growth from their junior to senior year (think Drew Olson and Marcedes Lewis) and I think this team has the potential to be very good.
The Bruins have a tough schedule this season, with the PAC-10 looking like one of the toughest conferences from top-to-bottom in the country. The good news is that most of the difficult games are at home (California, Oregon, ASU, and Notre Dame) with just a few brutal road trips (OSU and USC). The offense will still be on the learning curve with Norvell's new system but a relatively easy early schedule (Stanford, BYU, Utah, Washington) should give them enough time to find their sea legs.
The big question marks are still on offense. We can pontificate all day about single back sets and spread packages, but it really all comes down to the confidence and competence of the quarterback. UCLA has a great defense that will keep us in each contest, but games will be decided on how well Ben Olson performs. He had flashes of brilliance last season, but also spent many games looking lost and shaken. I do expect some improvements but I wouldn't bet the house on Ben turning out a Heisman worthy year. Hopefully he can improve his game in time for a brutal November and December schedule.
Bruin Briefs

Recruiting rankings for the last 4 years (Scout.com is the first number, Rivals.com is the second):
2007: #36, #35, 11 commits
2006: #20, #17, 22 commits
2005: #24, #26, 21 commits
2004: #24, #34, 26 commits
2006 statistical rankings (National ranking is the first number, PAC-10 rank is the second):
Total Offense : 71, 7.
Scoring Offense: 64, 7.
Rushing Offense: 63, 4.
Passing Offense: 56, 6.
Total Defense : 35, 2.
Scoring Defense: 39, 4.
Rushing Defense: 9, 1.
Passing Defense: 49, 4.
More Reading
(photo credit: Getty Images)