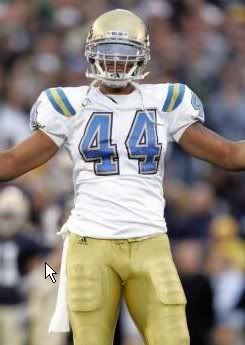 We've saved the best for last, and I'll be wrapping up the player profile series by taking a look at defensive end Bruce Davis. Bruce is the biggest star among the returning Bruin seniors, and the fast and athletic defensive end is receiving a lot of pre-season hype. He's charismatic, exciting, and a deadly pass rusher who was one of the top defensive players in the country last year. He's the unquestioned emotional leader of the defense and a big reason why the Bruins are poised to start 2007 as one of the top 25 teams in the country.
Bruce Davis is, by far, my favorite Bruin on this squad. He wears his heart on his sleeve and is an unparalleled optimist and supporter of this team. He thinks they can move mountains and beat anyone in the country. He carries that swagger and attitude into every down and every series in each game. He has a non-stop motor and a nose for hunting down the quarterback that is almost second to none in the conference and the nation.
Bruce had a stellar 2006 campaign. The red-shirt senior was a beast off the end spot, recording 12.5 sacks which tied him for 4th in the country and 1st in the PAC-10. He also added 17.5 tackles-for-loss (18th in the country, 2nd in the PAC-10) with 47 tackles in total. He made a living camping out in opponents backfields and there didn't seem to be much opposing tackles could do about it.
Davis is undersized for a defensive lineman. His 6'3", 229 frame would be considered a little light for a linebacker, much less a guy up front. That was one of the reasons why Davis bounced between positions earlier in his career. He switched from DE to LB and even considered TE before Walker came to town. Dewayne Walker immediately envisioned Davis as a pass rush specialist and he utilized his skills perfectly to transform him into a sack-producing machine last season. His immense speed and quickness gives him an advantage over slower, bigger offenses tackles and he has exploited the mismatch with spectacular results.
If there was ever anyone who was destined to be a UCLA Bruin, it was Bruce Davis. His dad and uncle also played for the Bruins in the 70's and his Mom is an alumnus as well. His father played on two Super Bowl teams with the Raiders and the Oilers, so you know Bruce has some good genes working for him. A number of NFL scouting services are projecting him as a first or early-second round draft pick, so he should follow in his father's footsteps at the next level as well.
Davis played his prep ball at Clear Creek High School in League City, Texas. Both Rivals and Scout gave him 3-stars and he was ranked in the high teens as a defensive lineman. Despite the low ratings, Davis had great camps and his NFL pedigree garnered him a lot of attention and some impressive offers. He choose Westwood over LSU, Arkansas, Colorado, and Oklahoma.
After red shirting his first year at UCLA, Bruce actually started in his first two college games against Oklahoma State and Illinois. He was a backup the rest of the season but did manage to record 2.5 sacks that year while playing in all 12 games. In 2005, he moved to outside line backer and bumped around between that position and end for the better part of the year. He would actually spend the first part of the week practicing with one squad and then the latter half of the week with the other group. He never really learned either position very well and that left him frustrated and questioning his place on the team.
Before the 2006 season, Bruce confronted coach Walker as soon as he joined the team. He wanted to be moved to a new position to get more playing time. Walker was firm and told the passionate Davis that he could use him best as a pash rusher. With Dewaynes guidance and the coaching of D-line coach Todd Howard, Davis has grown into the super star he was destined to become. He'll likely see a lot of double teams this season and strength and speed conditioning are crucial for him to grow and improve with the added pressure.
This will be a big year for Bruce. He came in under the radar last season and that helped contribute to his success. You can bet that offensive coordinators are already planning on ways to factor out the athletic super star. This is really his season to shine and prove that last years success wasn't just a flash in the pan. Other teams better not underestimate Davis, or he just might
have another thing coming
. And that's all I got to say about that.
(photo credit: Ghetty Images)