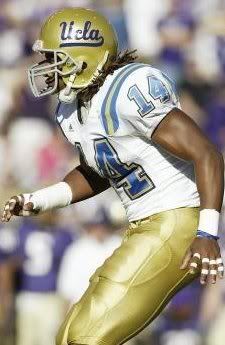 We'll switch to the other side of the ball this time and look at another New Orleans native in Chris Horton.
Horton will be playing in his 5th season with the Bruins, and the red-shirt senior has emerged as a true super star in the secondary. Chris led the defense with 95 tackles last season and added 3 interceptions and 2 forced fumbles. He was named to the all PAC-10 second team and is poised to be one of the best strong safeties in the country this year.
Horton is a big and physical and he has all of the skills you like to see in a strong safety. He is a powerful hitter who careens headlong into ball carriers, stopping them in their tracks. Here is a
video of Horton
forcing a fumble after laying a huge lick on Notre Dame running back Darius Walker.
Its hard to believe that Horton only made his first start at the end of the 2005 season against USC. This last year he looked like a chiseled veteran, starting all 13 games and almost never missing a play. He spent years behind an NFL-caliber safety in Jarrad Page, but Horton has the size and skills to be an even bigger asset to the Bruin secondary.
What might be even harder to believe, given all of the recent accolades, is that Horton was not highly rated coming out of De La Salle High School in New Orleans. He only garnered 3-stars by Scout, and 2-stars by Rivals, but that didn't deter schools like UCLA, Arkansas, and Clemson from pursuing the hard-hitting athlete.
Chris spent the first few years at Westwood playing on the special teams units and as a backup safety. He red-shirted his first season, but came off the bench to make some huge special teams plays in his second year for the blue and gold. The one play I remember vividly is Horton blocking a punt against the Trojans. He also blocked another punt that year against Arizona for a safety.
In 2005, Chris spent the first half of the season recovering from a wrist injury he suffered in the fall camp. To this day, Horton is still bothered by the injury and he admitted in an interview that it sometimes hinders his ability to make interceptions.
"When the doctor tells you your wrist is a career-threatening injury, and I made it past the stage the doctors said I wouldn't make it past because I don't have to wear that cast anymore, I'm happy," Horton said. "As long as I'm out on the field, I'm happy."
In the off season, Horton was named to the
Play Boy All American team.
Lots of experts are putting him on their All American watch lists and I think he'll have a huge Senior season in the UCLA secondary. With a new offense again this season, the Bruins will rely on their defense to keep them in games. Chris will play a very critical role in helping to craft the Bruins into a team that can compete for the conference crown. Since he just recently finished his classes, he should be 100% focused on football.
(photo credit: viewimages.com)