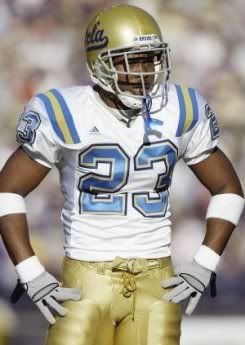 When you look at Trey Brown, he doesn't strike you as an imposing figure. The 5'9" 185 lb red-shirt senior from Overland Parks, Kansas isn't the biggest or the fastest player in the secondary. However, Brown has emerged as a lock-down corner who has started almost every game during the last three years. He is considered one of the top corners in the conference and he anchors one of the best units on the team.
Trey has started in 30 consecutive games at UCLA and has played in every game since 2003. That's an incredible streak and he is by far the most experienced player on the defense. In my mind, he is the captain of the secondary and his leadership has helped turn them into a formidable and aggresive group.
Trey locks down whatever receiver he is assigned to cover. He led the Bruins last season with 4 interceptions and 9 passes defensed despite the fact that opposing quarterbacks would rarely throw his direction. He also amassed 47 tackles and even got a sack on a corner blitz during the Stanford game. Despite his size he can land a big hit; just ask Arizona receiver Syndric Steptoe, who got
knocked for a loop by Brown
at the Rose Bowl.
Trey is the son of former UCLA running back
Theotis Brown
. He camped at UCLA during the summer of 2003 and committed to the Bruins as soon as he was offered. It is always great to see UCLA legacy players stick with the school and make a big impact for their parent's alma mater.
Brown came to Westwood from Blue Valley Northwest High School in Overland Park, Kansas. He wasn't well know and his small stature and remote location probably scared off most colleges. He was only given two-stars by both Rivals and Scout despite earning all league honors at both running back and corner. A well rounded athlete, Brown also lettered in basketball and baseball.
He red-shirted his first year as a Bruin but his tough and intellegent play impressed the coaches. In recognition of his accomplishments, he was named the defensive winner of UCLA's Charles Pike Memorial Award for Outstanding Scout Team Player. He started out on special teams his second year but midway through the season he was called upon to take up the starting corner spot.
His sophomore season he had a huge game against Oregon, making 5 tackles and taking an interception 43 yards for a touchdown to give the Bruins their first score. He ended up starting in the final 5 games of the year and, despite seeing only limited action to begin the season, he recorded 46 tackles. Once he earned that starting spot, Brown never looked back. In 2005, Trey continued his streak of excellence. He lead the team in passes defended and also racked up a bunch of tackles. He made a late interception in the 4th quarter against Cal to cap a huge Bruin victory.
With Brown and
Horton
in the secondary, this unit is going to wreck havoc on opposing offenses. Trey is the old veteran of the group and expect him to pass along his wisdom to future Bruin stars like Alteraun Verner and incoming freshman
Courtney Viney
. Since Walker's blitzing defense relies heavily on strong defense backs, it is great to know that Trey has his side of the field all locked up.
(photo credit: Ghetty Images)