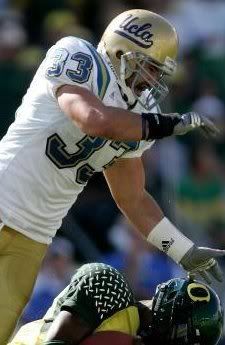 In a year where the defense improved by leaps and bounds, there probably wasn't a player who stepped up more than Christian Taylor. A former walk-on, he emerged as a critical leader and key member of the defensive. In recognition of his accomplishments, he was named co-winner of UCLA's Captain Don Brown Memorial Award for Most Improved Player.
Christian is a red-shirt senior this season and he will be the starting middle linebacker for the second consecutive year. Despite being hampered by an ankle sprain the majority of last season, Taylor played in all 13 games and only missed one start. He was all over the field, recording 83 tackles (2nd on the team), 4.5 sacks (3rd on the team) and 13.5 tackles-for-loss (3rd on the team).
As the Mike linebacker, Christian is the signal caller and the defensive leader. Taylor is a film junkie and he brings a lot of planning, study, and intelligence to his position. He isn't the biggest or the fastest player on the field, but he plays smart and is rarely out of position. He has a great nose for the ball and always seems to be in the middle of every play.
Another intangible that Taylor brings to the game is a sense of confidence and aggressiveness. He talks a lot of trash on the field and he is always trying to get into the head of his opponent. He never backs down and he isn't intimidated by anyone and you can see proof of that by the little scuffles and pushing matches he finds himself in after heated plays. The swagger he brings is contagious and I believe he helps fire up his comrades on defense.
Christian transfered to UCLA after attending the Air Force Academy. He wasn't offered a scholarship, but made the move to Westwood anyways and walked onto the team. He sat out a season, per NCAA rules, but he immediately proved that he was capable of playing for the Bruins. He was named the scout team player of the year and awarded a full scholarship after the 2005 fall camp.
Taylor got to play for the first time 2005 and he wasted no time in making a big impact. In just his second game, against the Rice Owls, Christian recovered a fumble and ran it back into the end zone for a touchdown. He went on to play in all 12 games that year, including a start against the Trojans and significant minutes in the Sun Bowl where he lead the team in tackles with 12.
Taylor was involved in a key 4th down stop against the Trojans this last December. Along with Alteraun Verner, Taylor hist running back CJ Gable for a huge loss to give the ball back to the Bruins. You can see
a clip of that hit
in this highlight video of the game. I tell you, watching that never gets old.
Christian did an outstanding job last season and he looks poised to have a huge senior campaign. He spent most of last season with a bum ankle, so it will be great to see what he can do while healthy. I expect big things from this defensive captain and I know he will deliver.
(photo credit: view images)