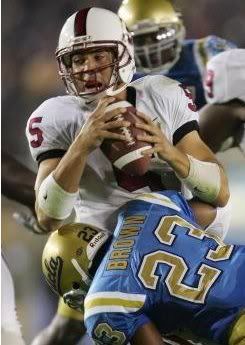 First-year coach Jim Harbaugh makes a big jump from I-AA San Diego to the PAC-10 and it appears he's injected a least a little enthusiasm and hope into a program that has hit the skids over the last few years. Harbaugh has an almost herculean effort ahead of him as the Cardinal finished last season 1-11 and dead last in the conference in almost every statistical category. UCLA blanked Stanford last year in Pasadena and the Bruins will be looking for a repeat performance to open up the 2007 season.
Offense
Fifth-year senior
T.C. Ostrander
will take over the signal calling from NFL-bound Trent Edwards. He's seen plenty of action during his career in large part because Edwards was often used as a tackling dummy by opposing defenses. Ostrander did manage to lead the Cardinal to their only win last season, though that was against a Stanbeck-less Washington team.
Ostrander hasn't been particularly impressive when he's played, but new coach Jim Harbaugh has said he's pleased with him. He was 72 of 158 (46%) with 3 TDs, 5 INTs, and QB rating of 94.3 last season. Not particularly good numbers, but Ostrander does have 3 more months to prepare for his season debut.
Since Edwards couldn't stay healthy behind an awful offensive line, it makes you wonder who is behind Ostrander on the depth chart. If he goes down, it will either be junior
Tavita Pritchard
or redshirt freshman
Alex Loukas
. Neither was terribly impressive this spring and both are very inexperienced and raw. Injuries probably won't be a big factor for the game against the Bruins, as long as Ostrander stays healthy in the fall camp.
Coach Harbaugh will be very active on the sidelines this season. The former NFL quarterback will play a primary role in developing the game plan and will call the plays on Saturday. I'm sure he'll also spend plenty of time with Ostrander, trying to coach up the senior. He was successful at the University of San Diego and we'll have to wait and see if he can spark an offense that was moribund last season.
The one bright spot on offense is the return of healthy receivers
Mark Bradford
and
Evan Moore
as well as 2006 leading receiver
Richard Sherman
. Ostrander will have a pretty good trio of pass-catching targets that have enough talent to play at the next level. Of course, he'll need enough time to actually find his receivers, which is something the offensive line couldn't provide Edwards last season.
Senior Mark Bradford was the top target for Edwards in 2005 and was looking to have a break-out year last season before getting hurt in Stanford's game against San Jose State. Moore looks like he has been hurt a lot in his career and I'm sure both red-shirt seniors will be focused on staying healthy this season. Expect Trey Brown and Rodney Van to have their hands full, especially with the 6'7" Moore. Both corners are giving up almost 10 inches and Ostrander will likely try and isolate Moore and play a little jump ball.
Running back
Anthony Kimble
lead the team last year with 470 yards rushing and the Senior will look to improve on those numbers.
Toby Gerhart
is also back and I'm sure Cardinal fans are hoping the big back from Norco will be a future star on the Farm. He broke his arm playing baseball this year and that might slow him down during the football season. The Bruin front seven shouldn't have much of a problem containing the run game.
The offensive line was down right awful last season. They gave up an astonishing 3.82 sacks a game, which ranked them 114th in the country in sacks allowed. Bruce Davis and company were constantly in the Cardinal backfield last year and they had Edwards running for his life most of the game. Stanford returns four of those lineman this season, which may not be a good thing. Even with all of their playing experience, they still looked terrible during spring practices, particularly in the spring game, where they gave up seven sacks. Expect UCLA to be just as successful at pressuring Ostrander come September 1st.
Defense
As bad as the offense looks, there are just as many questions, if not more, on the defensive side of the ball. Scott Shafer, an up-and-coming defensive innovator who revived the unit at Western Michigan, is being counted on to do the same thing at Stanford. He has an uphill battle ahead of him this season.
The Cardinal will be switching to a more conventional 4-3 defensive front from the 3- 4 they ran last season. In some ways that will help them cover for some peronsell loses that will hit a team already lean on talent. The defense lost it's three best players from the worst unit in the Pac-10. That included their only standout player, Michael Okwo, a first-team All-Pac-10 linebacker.
Besides Okwo, Trevor Hooper and Bo McNally were the other two leading tacklers and both safeties will be missed from the secondary. The best candidate at the free safety spot is sophomore
Austin Yancy
who was a backup receiver last year. That's a telling sign of how hard up Stanford is for athletic players. Ben Olson definitely has the arm strength to stretch the field and I think Norvell will try and take advantage of this thin secondary.
Last year, the Cardinal gave up 211 yards rushing per game. That's an embarrassing number and that was with Okwo in the lineup. They are going to have to find a way to slow down opposing running backs this year if they are going to stand a chance at winning any games. Sophomore linebacker
Clinton Snyder
and nose tackle
Ekom Udofia
look like promising players who could help revive this unit down the road.
In the spring game, the defense looked decent, but you expect the defense to be ahead of the offense when a new system is installed. We'll have to see how they perform in the fall and if any new stars can emerge. Considering the recruiting hand-cuffs that the Stanford administrations has put on the program, I won't be holding my breath. The Bruins have an athletic advantage at almost every position.
Special Teams
Senior
Derek Belch
has passed
Aaron Zagory
in the kicking competition this spring. Zagory was inconsistent last year, connecting on 8 of 13 field goals with a long of 37 yards. Stanford will likely struggle getting the ball into the end zone, so a solid field-goal kicker is a must. It doesn't look like they have one just yet but incoming freshman
David Green
, from Mission Viejo High School and the top-rated prep kicker in the country, could be just what the doctor ordered.
The kick and punt returners last season were pretty bad as well. The longest punt return all year was 20 yards (UCLA
averaged
more than that in 2006) and the kick return wasn't much better. There isn't exactly a lot of speedsters on the roster to take over these duties but running backs
Jason Evans
and
Tyrone McGraw
will be given the opportunity.
The Verdict
A Bruin victory is pretty much a no brainer. UCLA returns way to many players and they will hit the ground running in the season opener. Stanford is just beginning to rebuild their team after an atrocious 1-11 season and they will eventually be a much better team... just not this year. The only question that remains is the margin of victory and that will be a barometer of how good this Bruin squad will perform this season.
It is a road game, and UCLA has struggled outside of the Rose Bowl in recent years. It will also be the first game under Norvell's offense, so it is hard to know what to expect from our boys. Considering how well Olson did against Utah in the season opener last year, I think he could have a repeat performance up on the Farm. I'm guessing a comfortable Bruin victory is in the works, but don't expect a blow-out. Stanford has just enough players on offense that if Ostrander starts clicking they could put up some points.
CalPoly's predicition: UCLA victory. Record: 1-0 (1-0).
Cardinal Facts
Recruiting rankings for the last 4 years (Scout.com is the first number, Rivals.com is the second):
2007: #36, #51, 11 commits
2006: #38, #53, 19 commits
2005: #38, #41, 16 commits
2004: #46, #57, 14 commits
2006 statistical rankings (National ranking is the first number, PAC-10 rank is the second):
Total Offense : 118, 10.
Scoring Offense: 118, 10.
Rushing Offense: 115, 10.
Passing Offense: 95, 10.
Total Defense : 97, 10.
Scoring Defense: 108, 10.
Rushing Defense: 117, 10.
Passing Defense: 60, 7.
Game info:
September 1, 12:30 pm Pacific Time. Televised nationally on FSN.
More Reading