Friday, June 26, 2009
In addition to being a stellar student, finance intern, and all conference defense back, Alteraun Verner
writes for the ucla blog
. Pretty cool.
Posted by

CPBruinFan
at 6:20 PM
No comments:
Links to this post

Wednesday, June 24, 2009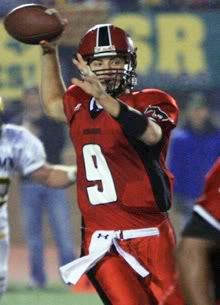 It's been a while since I wrote up one of these recruiting posts, but I felt inspired this morning. One of the reasons is that the UCLA recruiting drought ( a few weeks ago
we had no commitments
for the 2010 class ) looks like it is finally over; The Bruins have four commits with two coming in the last 24 hours. The other reason is that Chow and Neuheisel picked up a QB and it's hard to not get excited about the most important position on the field; especially one where the Bruins need serious help.
The
guy they picked up
is none other than Brett Nottingham from Monte Vista High School (Bay Area). By most accounts he isn't the most super, spectacular quarterback in the nation. But he seems to be a solid, mature, and accurate passer. He doesn't have a big arm, but he looks ready to start playing at the D1-A level next season.
Nottingham is a smart quarterback and student, as evidenced by his 70% completion percentage as a Junior and a 4.0 GPA in the classroom. He had offers from Stanford, Colorado, and some MWC schools. He ultimately was drawn to
UCLA because of family ties
(his dad and two older sisters are Bruins).
Posted by

CPBruinFan
at 5:52 AM
No comments:
Links to this post

Monday, June 22, 2009
Got to love the sweet irony that is USC basketball. Just a few months ago, Arizona was looking to hire Floyd to replace O'neill. Now SC is hiring O'neill to replace Floyd.

Not that it matters much. With veteran players bailing before the sanctions are levied and every single recruit jumping ship, SC basketball has received a virtual death penalty without the NCAA lifting a finger. I heard they may only have 9 scholarship players for this season.

Awesome.
Posted by

CPBruinFan
at 12:19 PM
No comments:
Links to this post