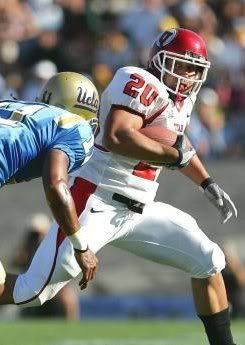 The Bruins take on another Mountain West opponent in the 3rd week of the season when they head up to Salt Lake City to play the Utah Utes. This team is the mirror image of the
BYU Cougars
; they lose a lot of defensive players but bring back a pretty good offensive unit. The Bruins shut them down last year at the Rose Bowl and our guys will definitely be looking to take care of business again this time around.
Offense
The key to the Utah offense is the spread and they'll be asking returning junior quarterback
Brian Johnson
to run the show this season. Johnson was spectacular in 2005 until he suffered a torn ACL late in the season. He missed all of 2006 rehabbing his knee but he is back and ready to play. Since a key component to the spread is a mobile quarterback, the biggest unanswered question is how fast can Johnson run on his bum leg? Utah coach Kyle Whittingham says Johnson is back to 100% and just as quick as ever. We'll have to wait until September to see if that is really true.
The running back position looks a little shaky. One good piece of news for Utah is the return their leading rusher
Daryl Poston
. The former USC Trojan got a seventh year of eligibility and he'll be in the backfield at some point this season. Poston didn't put up very good numbers last year, only 550 yards and 5 touchdowns. The often injured back isn't very big but he brings some good speed. Poston broke his foot this spring, so if he isn't ready to go this fall then the duties may fall to
Matt Asiata
who was playing at the junior college level last season. Neither back is a threat to knock of a big run and the Bruins stingy defense will likely force Utah to keep the ball in the air or put the ball in Johnson's hands on the ground.
The receiving corps is an experienced group that returns it's top six players. None of them really stood out as play makers last year and this squad will look to improve a lot this season.
Marquis Wilson
made the most out of the passes sent his way, including knocking off a 57-yard touchdown run against BYU. I'm sure Walker will bring Horton up to key on the quarterback in rushing downs, so the corners will need to lock down their assigned receivers without much assistance. I definitely think that the experienced Bruin secondary is up to the task.
Like the Cougars, Utah bring back a very talented and large offensive line. The Utes do lose an all conference tackle in Tavo Tupola, but the other spots are solid. Tupola's replacement is 6'7", 320 lb junior
Dustin Hensel
and he'll have his hands full with the UCLA ends.
Jason Boone
and
Robert Conley
anchor this line and both look to have big seasons and compete for all conference honors. They'll have a lot of pressure to protect Jonson, as he'll be the major cog in the Utah offensive machine. The Bruin defensive line will have some big bodies to move with this lot but expect Davis and Dragovic to bring a lot of speed and pressure from the outside.
Defense
Utah loses a lot of players from a defense that wasn't all that great in 2006. The biggest departure for this unit is all-everything defensive back Eric Weddle. He was all over the field during his career at Utah, including playing running back and even a little quarterback. His versatile, athletic talent will be sorely missed this season and the Utes really have nobody who can take his place. They'll be running a traditional 4-3 again this season.
The other big departures were 300 lb defensive tackles Paul Soliai and Kelly Talavou. They were both all conference selections and sophomore
Kenape Eliapo
and senior
Gabe Long
will literally have some big shoes to fill. It was the defensive line last year that caused the Bruins fits in their running game. This time around things should be different as the new UCLA line should have an easier time pushing around this squad. The Bruins will need to prepare and drill against a D-line that likes to stunt.
The strongest squad at Utah is their talented trio of line backers. They have a nice mix of speed, size, and strength and all three bring a lot of experience back to the position.
Joe Jiannoni
was the leading tackler last season and he cements the squad. Seniors
Malakai Mokofisi
and
Kyle Brady
are on the outside and bring some big play making ability. This group will likely be busy if their defensive line isn't able to take on the experienced UCLA O-line.
Again, Ben and the offense will be facing a team with some deficiencies in the secondary. Free Safety
Steve Tate
got picked on last year as teams tried to stay away from Weddle. He was up to the challenge but he is nowhere near as imposing a player.
Brice McCain
is back and the fast corner has great cover skills. He is a lot like Trey Brown; a little short at 5'9" but he has a real head for the ball. There is a mismatch in height, though, and Joe Cowan could have a big day with his 8 inch height advantage. The other spots are going to be filled with new faces and some guys switching positions. If Ben can heat up like he did last year, then he should be able pick apart the Utah defensive backs.
Special Teams
Junior
Louie Sakoda
was one of the best punters in the country last year landing 52 punts inside the 20 yard line. He also was the place kicker last season and he'll be handling those responsibilities again this time around. He doesn't quite have the leg and accuracy on longer kicks, but he was money from inside the 40 yard line.
Utah will need to replace their punt return guy but kick return specialist, Brice McCain, is back and he had a good 22.5 yards per attempt.
The Verdict
There's no doubt this game will be much closer than the last meeting. Utah has some potent offensive weapons, excellent specialists, and they'll be back on their home turf. The Bruins haven't faired well on the road recently, so this game will be a good mental challenge for this team.
The Utes have an inexperienced defensive line and the Bruins should run well against this team. The secondary has some holes and Ben and the receiving corp could make some big plays in the passing game as well. Utah's biggest strength, their spread offense, will run smack dab into the Bruins experienced, athletic, and quick defense.
Ultimately, I think the talent gap, an imposing defense, and an improving offense will be too much for a rebuilding Utah team. There are just too many holes in the Utah defense that, even with their star defenders last year, still got lit up by Ben Olson. This one is going UCLA's way, but it probably won't be a run away win.
CalPoly's Predicition: UCLA Victory. Record: 3-0 (1-0)
Salt Lake Scoop
Recruiting rankings for the last 4 years (Scout.com is the first number, Rivals.com is the second):
2007: #66, #71, 24 commits
2006: #60, #55, 25 commits
2005: #71, #59, 19 commits
2004: #68, #61, 22 commits
2006 statistical rankings (National ranking is the first number, MWC rank is the second):
Total Offense : 41, 3.
Scoring Offense: 33, 3.
Rushing Offense: 54, 4.
Passing Offense: 34, 2.
Total Defense : 43, 4.
Scoring Defense: 37, 3.
Rushing Defense: 22, 2.
Passing Defense: 78, 5.
Game info:
September 15, 3:00 pm Pacific Time. Televised by Versus (aka The Outdoor Network).
More Reading
(photo credit: Ghetty Images)