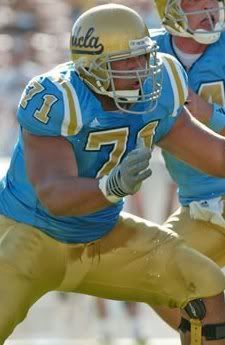 It wasn't a sure thing that Shannon Tevaga would be back this year. He flirted with jumping to the NFL before the last draft, but decided another year in Westwood would be a good idea. Shannon is the star on the offensive line and the big man from Paramount has the size and skills to play at the next level.
When asked about the decision, Shannon stated that earning a degree and the opportunity to play with his brother, Sonny (who is a red-shirt freshman this year at UCLA) were the key reasons he came back. An experienced and durable player, Tevaga will be a key anchor on a re-shuffled offensive line this year. Karl Dorrell
had this to say
about Shannon's contribution to the team:
"Shannon has a chance to be one of the better players in our conference next season and his experience will be an asset to our offensive unit. Another year of college experience will benefit him in the long run."
Tevaga started all 13 games last year barely missing a snap. He also started all 12 games in 2005 and 6 games in 2004 and that makes him the most experienced lineman at UCLA this season. Tevaga has proven to be a dependable and consistent leader on the line during his tenure as a Bruin. Tipping the scales at 313 lbs, Shannon is also one of the biggest lineman suiting up in the blue and gold this season.
Shannon came to Westwood from La Mirada High School. He was a hot prospect after his senior year, and he was given a rating of 4-stars by Scout and 3-stars by Rivals and both services considered him one of the top guards in his class. He was offered scholarships by a number of PAC-10 schools but
ultimately picked UCLA
because it was close to home and his family. He was selected all-CIF first-team as an offensive lineman and first-team all-area as a defensive lineman. Tevaga was selected to the prestigious Long Beach Press-Telegram Dream Team.
Coming into his final year at UCLA, Shannon has been getting a lot of attention and praise. He has been named to a number of pre-season all-conference teams. The Sporting News and Lindy's magazine both put Tevaga on their second team all PAC-10 squads. He also is expected to be picked up in the NFL draft at the end of year, with some services projecting him to go in the second round.
With a number of players switching positions on the line this year, Shannon will be asked to anchor the unit and lead them to victory this season. Football games are won and lost in the trenches and Tevaga is a big and gifted athlete that the Bruins will run behind a lot this year. I expect a lot from him in 2007 and, after 31 consecutive starts, Shannon has proven he can consistently deliver.
(photo credit: national champs)