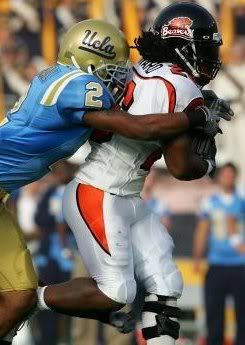 At the end of September, the Bruins will be heading up to Corvallis Oregon for the first time since 2002. The Beavers made believers of their fans last season, winning 10 games with thrilling victories over USC and Missouri. This team returns a lot of talented players on both sides of the ball with the only question mark at quarterback. Our boys will definitely have their hands full in this difficult road game.
The Bruins coasted to victory last year and in 2005 but this year will be a very different story. Taking on a very good Oregon State team on the road will not be easy and this looks like a trap game for our boys. The Beavers are much better than UCLA's four previous opponents and they have star athletes at a lot of positions. I think there are four key games that will determine if the Bruins have a successful seasons and this is one of those games. If the Bruins can come away with a victory then it will be a very good sign for the rest of the 2007 campaign.
Offense
The Beavers have to replace former UCLA-transfer, Matt Moore, at quarterback this season. Moore definitely had some up-and-down games at Oregon State, but he did lead this team to 10 victories and the #24 passing attack in the nation last year. Now, against UCLA, he was pretty miserable. In his two performances from 2005 and 2006, he accounted for 2 touchdowns and a whopping 5 turnovers (2 interceptions and 3 fumbles). If Moore's replacement can cut down on the bad decisions and hang onto the ball then the Beavers will be much more difficult for the Bruins to beat.
After the spring game, no clear leader emerged at the position.
Sean Canfield
, a red-shirt sophomore who was Moore's backup last season, is the tentative leader at this point. The 6'4" Canfield was the heir-apparent coming into camp, but he didn't really impress during the spring.
Lyle Moevao
is the other option and the big, scrambling JC-transfer brings a totally different dimension to the offense. There is a possibility that both could be used in a dual-quarterback system. We'll have to wait until training camp wraps up to know for sure.
The Beaver running game is powered by
Yvenson Bernard
. I wouldn't say he was exactly "under the radar" last year as a lot of teams knew he was a good back. But Bernard did emerge last year as a player you have to account for in your defense scheme. Bernard has put up two thousand-yard seasons and he is a first-team all PAC-10 selection. It's curious, though, that the Beavers only had the 8th best rushing attack in the conference in 2006. Some of that comes from Bernard having so many touches, which inflates his totals. He racks up some big numbers but his averages are, well, pretty average. When you look at his
all purpose yard average
, he ranks behind Chris Markey and most of the other conference backs. The Bruins did an excellent job containing him last year, 54 rushing yards on 16 carries, and stopping him this time will be even more crucial with an inexperienced quarterback at the helm.
The good news for Bernard and Canfield is they have one of the best (if not the best) offensive line in the PAC-10 blocking for them. They are experienced (one 3-year starter, and two 2-year starters) and left guard
Jeremy Perry
is the best guard in the conference, easily earning first team PAC-10. Center
Kyle Devan
is the leader and anchor of the line and
Roy Schuening
rounds out a very talented core to this squad. Kevin Brown and Brigham Harwll will definitely have their hands full in the middle. The only new face is Junior
Tavita Thompson
, at left tackle, who has been a backup for years. He'll face the quick and agile Bruin ends, so he might be a point of attack for the UCLA defense. If the Bruin D-line gets out muscled by this group then things could get ugly real quick up in Corvallis.
Canfield will have an experienced set of receivers at his disposal this season. That includes
Sammie Stroughter
, who is arguably one of the best receivers in the conference.
Brandon Powers
returns at the slot back position and he'll look to improve on his 445 yards and 1 touchdown form last season. The Beavers will need to replace their tight end and sophomores
Howard Croom
and
John Reese
are the likely candidates for the job. Both were used sparingly last season in primarily blocking roles. The Bruin secondary will need to bring their A-game and not let this group make any big plays, while likely committing Horton to help stop the Beaver running game.
Defense
The Beavers rely on a traditional 4-3 front, but the key to the Oregon State defense is their line backing crops. They may not be as athletic and strong as the Trojans, but this group does an excellent job in all aspects of the game. They are an experienced trio of seniors and the OSU coaches will ask them to be big play makers all season long.
Derrick Doggett
, the speedy outside linebacker, was all over the field last season recording 5 sacks, 3 interceptions, and 85 tackles. Now in his 5th season up in Corvallis, Doggett has emerged as a force on this team. Co-captial
Alan Darlin
is the strong presence in the middle and Joey LaRouque brings some more talent and experience to this unit. The Beavers are deep at the linebacker position and they will likely rotate players during the game. In the past, the Bruin offense has relied heavily on screens, dragging tight ends across the field, and little dink-and-dunk passes to move the ball. That might prove difficult against this squad. They have a knack for finding the ball and are excellent in short-route pass coverage.
In front of the linebackers is an experienced and solid foursome. Three seniors will likely start with
Curtis Coker
and
Jeff Van Orsow
back in their familiar spots. The other senior, defensive end
Dorian Smith
, lead the team in sacks last season. He won the starting spot by the end of the season and his contribution helped spark a struggling defense. Abraham and Kia will definitely have to step-up to keep the pressure off of Ben. The second string for the Beavers is also full of juniors and seniors, so this group is very deep and our O-line will likely see a lot of fresh legs throughout the game.
Unlike the previous four opponents, the Beaver secondary is experienced and stocked full of upperclassman. They do lose a key member in strong safety Sabby Piscitelli. He was the emotional leader of the secondary and his 5 interceptions lead the team. His replacement,
Daniel Drayton
, was the nickle back last year, but he has some big shoes to fill. The rest of the unit is solid and very experienced.
Keenan Lewis
and
Brandon Hughes
are 3-year starters and
Al Afalava
rounds out the group at free safety.
The Beavers held UCLA to a season low 12 competitions last year. If it wasn't for a huge 45-yard TD pass to Marcus Everett and some key turnovers, we may not have scored more than a few field goals. I expect this defense to be highly motivated and eager to get some revenge for the last two defeats down in Pasadena. Ben is going to have to make some plays if the Bruins are going to reliably move the ball this time around. The Oregon State defense is very aggressive and they can be vulnerable to big plays.
Special Teams
The Beavers have, arguably, one of the best special teams units in the entire conference. They return every single player, save one, from their kickoff, kick return, punt return, and punt coverage units. They were excellent in all 4 areas last season and special teams coach, Bruce Read, was rewarded for his leadership with a job in the NFL.
Alexis Serna
is back kicking field goals and he is solid from all over the field. He won the Lou Groza award his sophomore season, which is kind of like the Heisman for kickers. He'll be automatic for the Beavers from close range, so our defense will have to keep him as far away from our end of the field as possible.
Sammie Stroughter
is back on punt return and he'll look to add to the 3 touchdowns he scored last year. Perez will have to get better at directing his punts as we don't want Stroughter to get anywhere close to fielding one against us. That could hurt our defense as punting out of bounds tends to lose you some net yards. Needless to say our punt coverage can't afford to make any mistakes.
The Verdict
This game just smells bad to me. The Beavers have lots of talented players on both sides of the ball and one of the best special teams units in the conference. It will be played on the road, where UCLA has struggled the last few years. The Beavers have defended the Dam well recently including that crazy shoot-out victory over USC last season. Matt Moore probably did more to hurt Oregon State in their last two games against UCLA then help. If his replacement can just hang onto the ball then the rest of the team should be pretty difficult to stop.
With Norvell installing a new offense, I have a feeling we'll struggle at times in some of the early games. The first four opponents have some weaknesses we can exploit and our defense will keep us in those games no matter how poorly the offense performs. In this game the margin of error will be much smaller and a big mistake on special teams or an untimely turnover could cost us a victory. I think we could drop an early road contest and this game looks like it will be the one. If Ben performs well and the offense gets clicking then we absolutely have the potential to win. At this point, however, I have a feeling this is our first defeat of the season.
CalPoly's Prediciton: UCLA defeat. 4-1 (2-1).
Beaver Bulletin
Recruiting rankings for the last 4 years (Scout.com is the first number, Rivals.com is the second):
2007: #40, #47, 33 commits
2006: #41, #43, 30 commits
2005: #51, #47, 19 commits
2004: #34, #26, 26 commits
2006 statistical rankings (National ranking is the first number, PAC-10 rank is the second):
Total Offense : 45, 6.
Scoring Offense: 36, 4.
Rushing Offense: 81, 8.
Passing Offense: 24, 4.
Total Defense : 59, 6.
Scoring Defense: 54, 4.
Rushing Defense: 29, 3.
Passing Defense: 46, 3.
Game info:
September 29. Time and TV package are still TBD.
More Reading