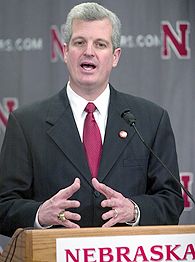 You see,
Nebraska got the memo
. They took a hard look at the state of their football program and decided it was stuck in neutral. Did they fire their head coach? No... at least not yet. I'm sure that is coming soon enough. They decided that the first thing they needed to do was get a new direction for their program. They did that by firing their Athletic Director.
This is exactly the
type of action I'm calling for UCLA
to take. I don't think the answer is firing Dan Guerrero, who has done an excellent job with basketball and baseball hires. No, I think DG should stick around for a while. But I like the message the Nebraska chancellor is sending. Make football a priority... or else. That is the message we need to send to DG: Make football the priority.
Make sure we hire an experienced, proven coach. Before we get rid of Dorrell, we need to insure that UCLA and the Morgan center are serious about getting a winner. Not just another bargain-basement, up-and-comer. We want somebody who has a track record of success as a head coach. That will likely take some money and some fortitude to put other sports and projects on the back burner. These are the tough decisions you have to make as an Athletic Director and if Guerrero can't do it then we need to find someone else who can.
(photo credit: AP Photo/Nati Harnik)