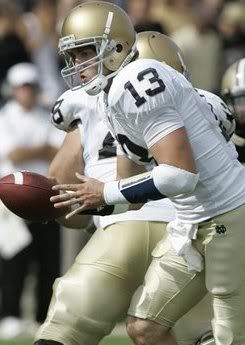 Unless you've lived under a rock for the last month, you've heard about the implosion that is Notre Dame football. They have lost their starting five games; the first time that has ever happened in school history. In fact, you have to go back 47 years to 1960, when Joseph Kuharich was coach, to find a longer losing streak (Notre Dame lost 8 consecutive games and finished 2-8 that season). This week they head into Pasadena to visit a revenge minded UCLA squad, in what should be another beat-down and loss number six. Or will it? Before you chalk this one up in the win column, let's consider a few things that could give the Irish a fighting chance to pull the upset on Saturday.
There is no doubt that Notre Dame's rushing attack has struggled this year. They were anemic (and that's being nice) for their first 3 games. They actually had a total of -14 rushing yards after playing Georgia Tech, Michigan, and Penn State. Things have changed a bit in the last two games. The Irish put up 166 yards on the ground against Michigan State and Purdue and while that isn't much to write home about, it shows that this team is improving from week to week. The Bruin run defense has been solid all season long (89 yards/game), so it will take a season-best effort for Notre Dame to move the ball.
The real trouble that UCLA's defense might face will come through the air. Notre Dame has struggled mightily with their inexperience quarterbacks, but things started clicking against Perdue. Behind a strong 4th quarter effort by reserver quarterback Evan Sharpley, the Irish almost doubled their passing yards for the year and actually gained more yards than an opponent for the first time this season. His final numbers for the game, 16-24, 203 yards, 2 TD, 1 INT, compared very favorably to what Ben Olson put up against Oregon State. The Bruin's secondary has been caught with it's pants down a few times this year and some timely passes by the Irish could cause trouble. The real question this week for Charley Weis and company is if Jimmy Clausen (who missed the second half against Purdue with an injury) will be behind center or Sharpley. The Irish responded well to Sharpley and he could be a spark for their struggling squad.
The Bruins offense goes up against an Irish defense that has to be begging for some help. They actually aren't all that bad of a squad, but when you get no breaks and no points from your counterparts on offense, it is almost impossible for any defense to look good. They have a total defense ranked 52nd in the country, which is right up there with UCLA (55th). The scoring defense has been poor, but what do you expect when your offense puts you in bad situations? If Weis can solve his offense woes then this defense has enough mustard to keep them in the game. Defensive lineman Trevor Laws has made some plays this year to help the Irish and they could use a big game from him this weekend.
When it comes to execution, the two teams leave a lot to be desired. Each have been assessed 39 penalties this season. That has killed drives for both offenses and it was maddening to watch UCLA sputter and stall the last two weeks against Oregon State and Washington. The Irish had a suffocating 11 penalties against Perdue and their fans can only wonder if that cost them their first win of the season. If either team can clean-up it's act then that can be a big boost toward winning this game.
Probably the best thing Notre Dame has going for it is their winless record. While that might seem counter intuitive, there is a certain degree of desperation and determination that seeps into a team when they keep losing. Like a caged animal, they might come out swinging and any early success could fill them with enough enthusiasm to finally prove their every-growing list of critics wrong. Of course, the opposite is also true and an early deficit could cause them to break and mail in the rest of the game. Let's not forget that this team is young, inexperienced and talented and the young and inexperienced parts are diminishing every week. If they can get a little wind behind their sails, anything is possible.
At the end of the day, UCLA should easily win this game. The Bruins have a statistically superior offense, defense, and special teams. They are playing at home in the Rose Bowl, where they have gone 14-1 over the last 2+ seasons. UCLA is also 4-1 taking on a winless team. All of that is true, yet if we have learned anything from watching UCLA football in the Karl Dorrell era, it is that UCLA plays to the level of its competition. No game is a gimme and, worse yet, the Bruins are prone to inexplicable collapses against vastly inferior competition. Have the Bruins really learned their lesson from the Utah debacle in week two? Let's hope so, because Notre Dame is bound to win a game one of these Saturdays. We'll have to see if the luck of the Irish is with them this Saturday.
(Photo Credit: AP)