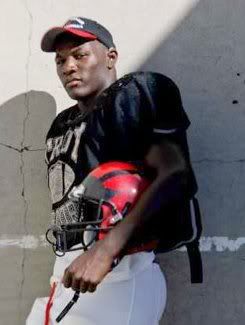 Here is a
great story
about Derrick Coleman of Troy High School. He is currently committed to UCLA for the 2008 class. Rivals has him as the #3 fullback in the country but don't be surprised if Coleman wants to play tailback. He's the primary running weapon for the Warriors and, including this last weekend, he has racked up 1085 yards and scored 20 touchdowns. He is definitely turning into a premiere college-caliber back who brings a lot of power running and toughness.
One of the great stories around Coleman is that he has a hearing disability. He has to use two hearing aids when he plays but it doesn't seem to impact his results on the field. His hearing loss started when he was 5 years-old, so the High School senior has learned to adapt to not hearing as well as his teammates.
When he arrives at Westwood he'll have a bevy of running backs ahead of him.
Milton Knox
, who recently set the LA
City Section career rushing record, will be on campus. So will Aundre Dean from Katy Texas. Both are super star running backs in their own right. Kalil Bell will be a senior, Raymond Carter a red-shirt freshman, and lets not forget Chane "the Train" Moline as a junior. Coleman may not get much playing time that first season, but he could be used at either fullback or tailback down the road. I could see him inheriting the role of Moline as the "power" running back used in short yardage situations.

(photo credit:
Gina Ferazzi / LAT)