Ah, are there two sweeter words in the English lexicon? Well, maybe "Free Beer" is right up there; but for the college football fanatic, "Game Day" is about as good as it gets. And this isn't just any game, it is the first game of the the season. The fans are euphoric, the expectations are high, and your team is undefeated. It is an exciting time and with all the experience on this year's team, it should be a huge season for UCLA.
Like most fans, I'm not heading up to Palo Alto for the game. Of course, that doesn't mean we're not going to be partying it up today. The home viewing party is a beautiful thing and we're having a big bash with all the family and friends over today.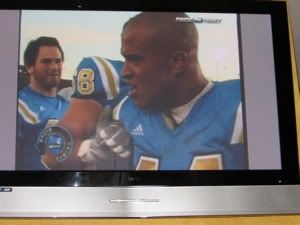 The plasma is hung by the chimney with care
The great unveiling of the new grill will occur later today
I can't wait to see this team take the field and play some real, live football! Stanford isn't exactly an exciting opponent and anything less than a crushing UCLA victory will probably be considered a disappointment. I'm a bit more forgiving and will just be happy with a nice comfortable win. There are a lot of games left to be played this year and as long as this team continues to improve each week then that's a lot more important than jumping out to a quick start. Of course, I won't complain if we demolish the Cardinal either.
(Photo Credit: Yours Truly)