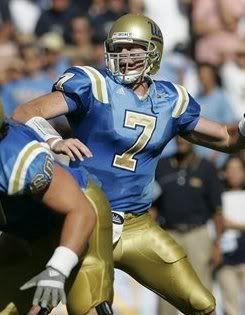 We're two games into the season and seven games into Ben Olson's career in Westwood. He's started out strong the last two years but struggled after the opening game both times. His performance against BYU left a lot to be desired and without a reliable passing attack, the Bruins will find themselves fighting to eek out wins every week. This has left fans everywhere asking if the big south paw is really the man for the job behind center. Well, he's going to have to be because we really don't have any other options.
Olson ended up completing less than half of his passes last Saturday with no touchdowns and one interception. The offense struggled along with Olson's accuracy and it didn't seem like they would score a point in the second half. You have to give this team some credit, though, as they battled their way down field at the end of the game to put the ball in the end zone and the game out of reach. Still, the two offensive touchdowns came on drives that depended almost entirely on the running game. Ben did make a few key passes, including a big 34 yard pass to Marcus Everett, but otherwise it was a wasteland of bad reads, misplaced throws, and dropped balls.
So what's the problem? Is Ben not getting enough time from his offensive line to make his reads? Are the receivers not getting enough separation? Is Ben just not finding the right receiver or is he just getting the ball to them too late? The answer might be a combination of the items above but the consensus seems to be that Olson just doesn't deliver the ball fast enough. He waits too long on quick, short passes (which are a staple of the west coast offense) and his passes arrive too long after the receiver has made his break. He needs to deliver the ball before the receiver breaks and that requires making good reads and an almost immediate decision on where the ball should go.
So are these problems fixable? Some of the pressure will fall on Jay Norvell to try and find plays where the Bruins can maximize Ben's strengths. I also think that Norvell can take some of the pressure off of Ben by utilizing the running game some more. Kalil Bell has the hot hand right now and he is running with power, strength, and a lot of anger. He's been a bull in the backfield and his consistent success carrying the ball will help develop some more play-action passing. Norvell also needs to call in some more deep passes. He only utilized a few last week and got more conservative as the game progressed. Stretch the field and put that big arm to work! The receiving corps also needs to step up as 5 dropped passes isn't going to get it done.
Ben may have some issues and he may never be able to regain that magic from his high school days, but he is the only man for the job at UCLA. Even if Pat Cowan were available (which he isn't) or if Mac Thompson were more experienced (which he isn't), Ben would still be the most gifted of the three. Nobody can deny that he can throw a nice ball and if he can work out his timing issues he could be special. Pat brings a scrambling element to the game that Ben doesn't posses, but his accuracy when throwing is really no better. Thompson might be able to step up in a pinch, but would you really put the offense in the hands of a red-shirt freshman walk-on? Hopefully, it doesn't come down to that and this offense irons out its problems. Otherwise, it could be a very long season.
(photo credit: AP)