When you lose like UCLA did this last Saturday, it is natural to assign blame somewhere. Unfortunately, there is plenty of blame to go around as almost every aspect of the game was a complete train wreck. The net result was the absolute worst loss in the Dorrell era. A 38 point drubbing that didn't see UCLA score a single touchdown for the first time in four years.
Offense
As the old saying goes, games are won and lost in the trenches. UCLA's lineman lost. Oh how they lost. Five sacks and no holes for the running game. This coming against a Utah team that had one of the worst run defenses in the country. The worst part, however, came on pass protection. When UCLA was faced with 3rd-and-long (which happened a lot) the Utes would send three and drop eight into coverage. Even with that paltry amount of pressure, Ben would go scrambling for his life and even got sacked once. Did I mention all the false starts? With out best offensive lineman, Shannon Tevaga, getting hurt and out for an unknown number of games, things could not have gone any worse.
Ben, Ben, Ben. I like Ben Olson. He seems like a good kid with his priorities set straight in life. I want him to succeed, I really do. But I've seen this movie before. It was playing last year at this time. It starts off with a great opening game and then progressively gets worse, and worse, and worse. We've now gone from 5 TDs to 2 INTs, to 3 INTs and a fumble. Ughh. Ben gets rattled when things aren't going well and he tries to make big plays. That usually translates into him forcing the ball into double and triple coverage. After 8 games and the same pattern emerging, I'm ready for a change. If Ben struggles early against Washington, I want Pat Cowan put in there. He may not be any more accurate when throwing the ball, but if he can keep the ball out of the Husky's hands that would be a HUGE improvement. Pat is supposed to be ready for full practice this week and he better get ready to play this Saturday.
Note to the running backs. When you aren't running the ball, you actually have to block someone. In particular, you may want to pickup that guy running full speed at your quarterback's blind side. It looks like Kalil Bell has come back to earth. He isn't running with the same intensity as he had against Stanford. Chris Markey was no better. With a poor passing game and no run, it is no surprise that we couldn't score any touchdowns.
The receiving corps had one nice bright spot. Brandon Breazell should get the Gutty-Little-Bruin of the week award if one existed (maybe I should create one, hmmm...). Just 7 days after having a mild concussion and a slew of dental work to fix his busted teeth, he went out and caught 6 passes for 121 yards. The rest of the group... eh. It doesn't help when you QB is struggling but the Marcus Everett drop was a big momentum killer. It was one of those things that works 95% of the time and I know he was just trying to make a big play. Still, the net result was another turnover that completely deflated the team.
Defense
It was a surprise to see our offense struggle this much against Utah, but you kind of expected some issues before the start of the into the season. But what the heck has happened to our defense? We have 9 returning starters. Sure, we lost Harwell and Dragovic to injury, but can this squad really be this bad? This is the third week in a row that our secondary has given up a lot of yards, and points, through the air. It is no longer just a "the opponents were passing a lot so the numbers were inflated" thing. This is a serious problem. One that has to be solved ASAP or a lot more losses are in our future.
I'll give some credit here to the Utah offensive line. They are a big group and one of the best in the Mountain West. That being said, we have little pressure from our front four. Worse yet, our linebackers were completely ineffective while blitzing. I know we don't have the biggest group but I thought our defense was supposed to be fast and smart? They didn't have either working for them Saturday as Utah confused the crap out of our guys. They were slow to respond and lost on coverage.
What is completely mind blowing is that our defense giving up 44 points to Utah's second string! Their running back, quarterback, and main wide receiver were out this week. Sure, our defense was put into bad situations by offensive turnovers. But they got run over by a Utah offense that had only managed 2 touchdowns in the their prior two games. Absolutely unbelievable.
Special Teams
Wow, Hello Kai Forbath. Just two weeks after missing a chippy against the Trees, he hits a 40+ yard field goal from the left hash mark with plenty to spare. Aaron Perez on the other hand was atrocious. A number of shanked punts the game after he was named PAC-10 special teams player of the week. Interesting that Ben had a really poor performance after he got the offensive player of the week award. Well, the good news is nobody is getting any such awards this time around. So no jinks against the Huskies. I thought we spent a lot of time this summer working on kick returns and kick coverage? Yes, we did? OK, if you say so.
Coaching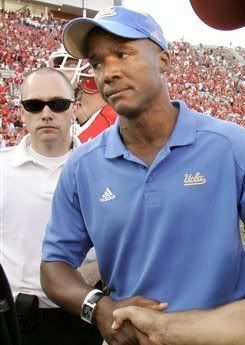 Ah yes, we've saved the best for last. The lion's share of the blame for this debacle lands squarely on the coaching staff. The team looked listless, uninspired, and worst of all... unprepared. The LA Times has an article talking about how
poorly the team played during their practices
leading up to the game. Bruce Davis nobly takes a bullet here saying he should have done more. That's all fine a well, but it is the coaches who get payed to prepare the team for the game. They obviously took Utah as lightly as the players.
What exactly was the game plan? Let's see, Utah gave up 334 yards on the ground to Air Force and 240 to Oregon State. I'm going to go out on a limb here and say "Let's run the ball" would be a good strategy. Apparently, Jay Norvell thought otherwise. I know the West Coast Offense is predicated on the pass, but common! Ben is struggling and our opponents are weak against the run.... cram it down their throats! I don't even know if coach Walker had a plan. If he did, it was missed by his players as well. I'm pretty confident it wasn't "give up a lot of yards rushing and passing".
Ultimately, it comes down to Karl Dorrell. As the head coach, the buck stops with you. I'm not one to trash Dorrell as he has more than his fair share of critics. But how can you not point your finger and demand accountability here? Something like this in year one might be tolerated, even expected. But in your 5th year with a senior stacked team, 20 returning starters and dreams of national recognition... you cannot get lambasted like this. Especially not to a winless, injury ravaged Utah squad that will be lucky to see a bowl game this season.
Is there any silver lining? Yes, there is some. The good news is that we still have a shot at a PAC-10 title. If you are going to have an embarrassing loss, it is better for it to happen early and against an OOC opponent. The Bruins are going to have to dig deep this week and do some serious soul searching. Up next is a resurgent Washington program that will give this team all it can handle.
(photo credit: AP)