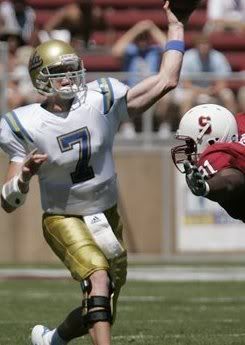 Well, the first week is done and the PAC-10 looked pretty good as the 2007 kicked-off. Everybody won their out of conference games except Arizona and WSU. Most of the games were blow-outs against weaker competition, but a nice start for our conference. The big game of the night was a huge national TV win by California over the Tennessee Volunteers.
The Bruins looked pretty darn good yesterday. Sure, it was Stanford and they aren't a tough opponent; yeah, our defense probably gave up more yards and points then you would have expected; But hey, the offense did a great job! Ben Olson looked very good, connecting on 5 touchdowns for 286 yards. Joe Cowan was the much-missed play maker in the receiving corp; he caught two passes, both going for touchdowns. Brandon Breazell also had a big day with 6 receptions and his own TD. The running game was awesome and that was largely due to Kalil Bell. He's taken his fair share of criticism from us arm-chair quarterbacks over the last few years, but I have nothing but praise for him today. A career high 195 yards, including that big 60 yard rambler. There is plenty of room for improvement, but overall it was a solid victory and a good start to the season. I'll have a lot more to say about the game this week on the
Bruin Show
but in the meantime you can always read the
recap from ESPN
.
The Trojans won their game against Idaho. That wasn't a big surprise, but the low scoring 38-10 final score wasn't expected. USC sputtered a bit playing at home against the lowly Vandals. Don't get me wrong, they won easily. They just didn't look as polished as you would expect. They had 3 turnovers, including an interception from Booty, and were actually out gained by Idaho in the second quarter with the Vandals getting more yards and first downs than the Trojans. Is that a sign of weakness? No, it's more the sign of a team with some new players playing their first game in 9 months. Next week they'll take to the road to play at Nebraska. The Corn Huskers looked very good in their opener, so it should be a high-spirited, and competitive rematch this year.
California probably had the
toughest opener
of any team in the conference. Their offense looked really good and Nate Longshore made some great throws, hitting on 19 of 28 passes for 241 yards and two touchdowns. Their defense gave up some long drives and big plays to Tennessee, but were stout when they needed to be, including an impressive goal line stand in the 3rd quarter. DeSean Jackson also proved once again that you should never punt the ball to him. He look the first attempt back 77-yards to the house. The Bears are going to be good this year and they definitely lived up to the #12 pre-season ranking.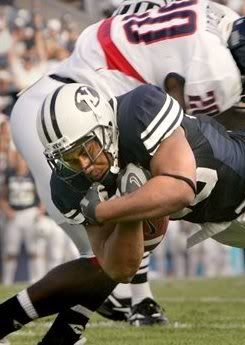 Two other Bruin opponents played each other on Saturday in the
Arizona and BYU match up
in Provo. The new spread offense in Arizona looked absolutely anemic, scoring their only touchdown with less than a minute left to play in the game. Some of the credit has to be given to the stout Cougar defense which completely suffocated Arizona. The Bruins will have a very tough opponent in BYU next week at the Rose Bowl and it will be a very good litmus test of how much our offense has improved. The Cougars gained most of their yard through the air behind the arm of new quarterback Max Hall. The UCLA secondary will have to step it up this week to keep this team in check.
Looking around the rest of the conference, Washington looked pretty good in a 42-12 win over an out matched Syracuse squad. They gained almost all their yards on the ground with dual-threat quarterback Jake Lockier having an impressive debut. The red-shirt freshman went 14 of 19 in the air for 142 yards and he tacked on another 83 yards and 2 TDs on the ground. Washington State but up a valiant effort at Wisconsin and they actually matched the Badgers point-for-point in the first quarter and were only down by 7 headed into the 4th quarter; But they faded in the stretch and lost 42-21.
The Ducks got into a wild shoot out with Houston. Oregon came out the winner in the
48-27 match
up but their defense struggled giving up 538 yards. Dennis Dixon looked good, rushing for 141 yards and passing for 131 more and scoring 3 touchdowns. I already went over the
Oregon State and Utah game
. Both teams struggled on offense, with Oregon State's quarterbacks looking pretty shaky. The Beavers won 24-10 but it wasn't pretty. Arizona State pummeled a hopelessly
overwhelmed San Jose State
, 45-3. The Sun Devils had a nice balanced attack behind Rudy Carpenter and Ryan Torain. The two combined for 5 touchdowns and ASU looks like they'll have another great offense this season.
The final team on UCLA's schedule this year is Notre Dame and the Irish got smoked by Georgia Tech. In fact, it was the worst opening-game defeat in Notre Dame history. Evan Sharpley got the nod at quarterback but Weiss ended up playing three different players at the position. The real story was the terrible offensive line play. Once again this team can't give their QB any protection and Sharpley got sacked 7 times. Notre Dame ended up with negative rushing yards for the game (mainly because of the sacks) as Georgia Tech blitzed their socks off. Everyone knew the Irish would struggle this year without their top offensive players, but such a lopsided defeat was a big surprise. We'll have to wait and see if this team will improve before they come play the Bruins at the Rose Bowl in week six.
(photo credit: AP)