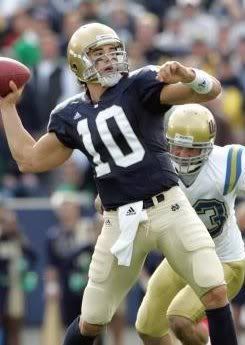 I've had the date, October 6th 2007, circled on my calendar for almost a year now. On that Saturday, the Bruins will step onto the Rose Bowl turf and get a chance to atone for one of the most heart-wrenching defeats in UCLA history. I don't think any fan wearing true Bruin blue will ever forget how our team came
within seconds of beating the Fighting Irish
in South Bend last season. Notre Dame will be making the trip out west this time and you know our boys will be chomping at the bit to get another shot at Charlie Weis and company.
The Irish had a very good team last year. They finished the season ranked in the top-20, had double digit wins, and were invited to a BCS bowl game. Playing in South Bend is never easy, and a UCLA victory last season would have been a pretty big upset. This time around, everything lines up in UCLA's favor. We return 20 starters and Notre Dame has to replace big chunks of their offense and defense. Gone is Brady Quinn, Jeff Samardzija, and Darius Walker. Gone is most of their defensive front seven. Throw in home field advantage and the Bruins should be favorites to win this rematch.
Offense
No team on UCLA's schedule,
besides BYU
, has to replace so many offensive personnel this season. The biggest loss is former Heisman Candidate, and now NFL bound quarterback, Brady Quinn. Quinn holds a number of passing records for the Golden Domers and finding someone to fill his shoes has proven to be difficult for coach Weis. The highly touted true freshman,
Jimmy Clausen
, is in the mix but he struggled during the spring practice and wasn't able to separate himself from the other contenders.
Demetrius Jones
and
Evan Sharpley
( the most experienced of the three) are eying the starting spot themselves and it looks like a decision will have to be made this fall. If the eventual starter struggles, I wouldn't be surprised to see him replaced at any point during the season, including the game in Pasadena.
Darius Walker had a thousand yard rushing season in 2006, but the stout Bruin defense held him to a measly 53 yards on 21 attempts. His replacement,
Travis Thomas
, will likely have an even harder time moving the ball at the Rose Bowl. This will, undoubtedly, put even more pressure on the passing game. Thomas, who has bumped around between linebacker and tailback, has big play ability but I don't think he's proven to be an every-down type of back at this point. He'll be teaming up with blocking back,
Asaph Schwapp
, who returns from injury. Weis has stated that he wants to establish Notre Dame as a running team, so a lot will be asked from this unit.
Jeff Samardzija has hung up his pads and helmet for a career in professional baseball and the Domers will desperately miss his big play making ability. Trying to replace some of Samardzija's receptions will be , 6'6" 259lb senior tight end
John Carlson
. He is the team's leading returning receiver with 47 catches in 2006 and the tall, athletic tight end will be a key target in this offense. The other receivers aren't particularly imposing, with
David Grimes
and
George West
taking on much bigger roles this year. They'll face a very experienced and polished Bruin secondary. UCLA will have faced a much tougher set of receivers the prior week against
Oregon State
, so I'm sure they'll do just fine this time around.
The Notre Dame offensive line gave up an astonishing 31 sacks last season. They'll need to improve by leaps and bounds if they're going to give their new quarterback a moment to breath in the pocket. Bruce Davis and Justin Hickman ran wild in the Irish backfield last year, racking up 5 sacks between the two of them. I think Davis will be pumped and ready to repeat those numbers this October. The Irish offensive line isn't huge, so our guys won't be giving up a lot of size.
Senior
John Sullivan
will anchor the line and he'll have to shepherd along the new guys. He has 33 career starts under his belt and the 6'4", 290lb center is a smart and experienced leader.
Sam Young
has also developed into a big contributer and the much-hyped tackle should have a big season. Weis will be replacing 3 of the starters from this unit this fall, which might not be bad thing, as there are some talented players in the wings. By week 6 they should be working fairly well as a unit.
Defense
The Irish are switching to a 3-4, from the 4-3 they ran last year, under new defensive coordinator Corwin Brown. He'll have a tough job ahead of him as the defense needs to replace four of its front-seven and two players from the secondary. The Irish had the 65th ranked total defense last season and it is hard to envision them improving much over those numbers this year. The Bruins will need to run the ball much better this time around, only gaining a pathetic 26 yards on the ground in South Bend.
The front three will see a shuffle as senior
Trevor Laws
moves from tackle to end. He's a big dude at 6'1" 295lbs, but the other lineman could be giving up some size.
Pat Kuntz
is only 272 lbs and junior
Justin Brown
comes in at a slim 255. The underclassman bring some more bulk, like 340 lb sophomore
Chris Stewart
. Stewart is a converted offensive lineman, so we'll have to see if he can make the transition to the other side of the ball. You like to see more size in your down lineman in a 3-4, so maybe those younger guys will be thrown into the mix sooner rather than later. The UCLA offensive line can, and should, open some good sized holes in this line.
Like the Bruins, Notre Dame's linebackers run on the smallish side.
Maurice Crum
, who hit the century mark in tackles last season, figures to play a big role in this squad. He'll team up with senior
Joe Brockington
on the inside while two new faces will be asked to take up outside linebacker spots.
Morrice Richardson
and
John Ryan
are the leaders at this point for the starting jobs and they bring some speed. The sophomores are still new and raw, but should be settling into the positions by October. With the switch to four linebackers, this squad will be asked to lend support all over the field. The front four as well as the secondary will both need it this season.
Strong safety
Tom Zbikowski
leads up a secondary that gave up 24 TDs through the air last season. Seniors
Terrail Lambert
and
Ambrose Wooden
aren't the most imposing corners and they'll need to improve a lot if the Irish are going to slow down the Bruins. If Norvell can mix in some deep passes then Ben definitely has the arm strength to throw some bombs in this game. Breazell and Austin bring plenty of speed and they should really challenge this squad.
Special Teams
Geoff Price
laid some booming punts last season, setting a school record in the process. He is back this season and the Irish punt team should be very strong. The big question mark is at the place kicking spot.
Ryan Burkhart
is tagged for that role but it could also go to walk-on if he struggles. In either case, the Irish won't want to leave the outcome of the game in their kicker's hands... or should I say leg.
The punt and kickoff returners, Tom Zbikowski and David Grimes, will take on those roles again this season. Grimes did a pretty good job last season, but Zbikowski will need to step up his numbers as the Irish we're ranked #88 in the nation in PR yards last season. With the new kick-return rules, Grimes will be someone that the Bruins need to contain. UCLA's special teams have been excellent the last few years, so I'm confident they'll get the job done this October.
The Verdict
This might not be the same Notre Dame program from years past, but any time you play the Irish it is a big game. The Bruins will need to be focused and pumped to take on a team with a lot of young talent and some very good coaches. The Bruins payed the price for being too conservative last year and Norvell, Walker, and the other UCLA coaches hopefully have learned their lessons for this season.
Notre Dame barely managed to squeak out a victory over the Bruins last season and that was with their star-studded lineup. UCLA returns pretty much everyone who made the trip to South Bend last year and the Irish have to replace their top passer, rusher, receiver, and big chunks of their defense. If the Bruins can come into this game with the same confidence, energy, and focus then they should win. You know our guys are eager to get redemption from last season's defeat. With a sold out Rose Bowl cheering them on, I think that's exactly what will happen.
CalPoly's prediction: UCLA victory. Record: 5-1 (2-1)
Notre Dame Numbers
Recruiting rankings for the last 4 years (Scout.com is the first number, Rivals.com is the second):
2007: #11, #08, 18 commits
2006: #05, #08, 28 commits
2005: #27, #40, 15 commits
2004: #30, #32, 17 commits
2006 statistical rankings (National ranking):
Total Offense : 23 .
Scoring Offense: 16 .
Rushing Offense: 72 .
Passing Offense: 13 .
Total Defense : 65 .
Scoring Defense: 67 .
Rushing Defense: 61 .
Passing Defense: 90 .

Game Info.

October 6. 5:00pm Pacific Time on NBC in HD!
More Reading