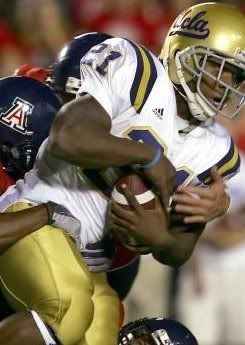 In many ways, the showdown in Tucson this year will be about revenge, retribution, and rebirth. The Bruins will be looking for revenge for losing Ben Olson to a
late tackle
last year in Pasadena. Arizona will also want a little pay back for losing quarterback Willie Tuitama to a concussion in that same game. UCLA will be seeking retribution for 2005 and the "debacle in the desert" loss that ended their perfect season. The Wildcats are hoping they can finally prove worthy of a bowl game and a position among the conference heavy weights.
It seems like Arizona has been in a perpetual state of rebuilding their program for the last decade. Mike Stoops is entering his 4th year and the program has seen some improvement but not enough to push it into a winning season. This year's team looks to be one of the best in his tenure at Tucson and the Wildcats always seem to pull a big upset victory at home late in the season. The Bruins were the victims of that in 2005 and Cal got bit last year. The Bruins are going to have to stay focused and really come out with guns blazing in this early November matchup.
Offense
One of the biggest changes for the Wildcats is the addition of offensive coordinator Sonny Dykes. Dykes helped design and build Texas Tech's awesome passing attack the last two seasons and the hope in Tucson is he can inject a little life into a stagnant offense. He'll employ multiple wideout sets in a spread offense and really put a lot of emphasis on the pass this season.
One of the big question marks this season is quarterback
Willie Tuitama
. He showed signs of brilliance in his career as the Wildcat signal caller but he also struggled mightily at other times. The big question, though, is his health. Can he stay healthy all year long or will a history of concussions end his career? At this point in the season, the Bruins could be facing backup quarterback,
Tyler Lyon
. Lyon is a prototypical quarterback standing tall at 6'5" with a big arm and bright future. He hasn't played a down yet at the collegiate level and the red-shirt freshman will likely still be pretty raw in Dyke's new spread offense.
The running game suffered a setback when tailback Chris Henry departed early for the NFL.
Chris Jennings
will get the nod and the big, 220 lb, power back brings some nice speed and good athleticism. He'll have to adjust to being a receiving target in the spread offense. UCLA's aggresive run defense held the Cats to negative yards last year in Pasadena. I'm sure the results will be better this time around, but don't expect Arizona to run the ball at will over the Bruins. This will likely force more pressure on the quarterback and the passing game.
The Wildcats lose go-to receiver Sedric Steptoe but
Mike Thomas
is back and the sure-handed target will be asked to play a big role in the new offense. The other receivers are new and untested and the experienced and deep Bruin secondary shouldn't have too many problems with this group. With a multiple receiver set, expect Alteraun Verner and Brett Lockett to find time in nickel packages.
The Arizona offensive line was complete garbage last year in the Rose Bowl. They left Tuitama scrambling for his life on most downs and would often miss blocks outright. They gave up 31 sacks for the season and the Arizona offense struggled because of it. The silver lining to last year's campaign is this group gained some much needed experience and they do return all five lineman this season. This squad is going to have to grow by leaps and bounds if Arizona is going to move the ball against the Bruins. UCLA's D-line matches up very well and the speedy defensive ends should wreck havoc in the wildcat backfield.
Defense
Like UCLA, the strength of this team is on the defensive side of the ball. This looks to be one of the strongest defenses in the conference with an excellent back seven and one of the best corners in the country. This is a group that has steadily improved under Stoops and now this senior laden squad is ready to really dominate opponents. The Wildcats run a traditional 4-3.
The secondary for Arizona is anchored by All American corner
Antoine Cason
. He'll lock down his side of the field and the Bruins will likely try and pick on senior
Wilrey Fontenot
. He's very experienced but only reaches the 5'9" mark. He's a lot like Trey Brown and the chiseled veteran knows how to play bigger than his size. Still, expect Joe Cowan and Dominque Johnson to try and exploit the 8 inch height advantage. Senior
Dominic Patrick
is back at free safety and he was a tackling machine last season.
The linebacking corps at Tucson is very solid.
Spencer Larsen
headlines the unit and he'll fill holes quickly against UCLA.
Ronnie Palmer
had a great spring and he's poised to have a huge year. Senior
Dane Krogstand
doesn't set the world on fire but he brings a lot of experience to help round out this squad. The Wildcats got almost no pressure on Olson or Cowan last year, so I think we might see some more blitzing from this group.
The big boys up front return all four starters from last season and they'll be asked to take-on the Bruin's revamped offensive line. This group under achieved last year so I'm sure the coaches are working them hard to improve their performance.
Louis Holmes
, who was the nation's highest rated juco transfer last season, is expected to have a big year. The other end,
Johnathan Turner
brings some speed. I think our quick and physical line can clear some lanes for Markey and Bell, but they'll have to continue to improve at their new positions. At this point in the season, they'll either be gelled as a unit or the Bruin's offense will be in trouble.
Special Teams
The Cats are remaking their special teams unit. They lose Nick Folk, who lead the conference in net punting average, and was the place kicker. Those jobs will fall to
Jason Bondzino
and
Keenyn Crier
. Both will have big shoes to fill. If the game in Tucson is a defensive battle then it might come down to some inexperienced kicker for both teams to win the game.
The Verdict
With two potent defenses, this game will likely turn into a low-scoring, knock-down, drag-out battle. The winner of the game will be the team who's offense can see some improvements over last season. Arizona is breaking in a brand new system and the Bruins are also retooling their offense under Jay Norvell. With a lack of depth on the Wildcats offense, injuries at this point in the season could be devastating to their scoring production. I think UCLA just brings more talent and depth when they posses the ball.
I don't believe the Bruins will get caught off guard on this trip to Tucson. They learned their lesson two years ago that you can never take this gritty team lightly. I fully expect our boys to be eager to atone for the last trip which still burns in the gut of Bruin fans everywhere. I think it will be a close game but UCLA will pull it out in the 4th quarter.
CalPoly's Prediction: UCLA victory. Record 8-1 (5-1).
More Reading