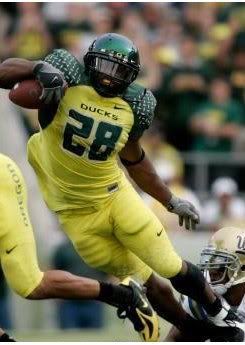 UCLA will get a much needed bye week before the Oregon Ducks come to pay a late November visit to Pasadena. Last year the Oregon offense jumped out to a quick start and our boys found themselves playing catchup the rest of the game. In was a tough loss, on the road, in Pat Cowan's first start behind center. This time around things should be very different. With home field advantage and the edge in experience, UCLA should be the favorite to come out with a victory. It will also be last home game of the season and I'm sure this senior-heavy team will want to wrap up their careers with a big victory at the Rose Bowl.
Like many teams in the conference this season, the Ducks are an offensive powerhouse. They ranked 9th in the nation in total yards last year and the core of that unit returns this season as well. Unfortunately for Oregon fans, those numbers didn't translate into a lot of wins. A ton of turnovers and bad decisions cost them victories at the end of the 2006 campaign. They'll need to hang onto the ball and get all the production they can get from their offense this season as their defense has a lot of new faces and some big holes to fill.
Offense
The discussion about the Oregon offense has to start with
Dennis Dixon
. He was a bit of an enigma last season. Full of athletic ability, good speed, and a solid arm, Dixon has the potential to be one of the best signal callers in the conference. The problem comes with his decision-making. He threw 14 interceptions in 2006, to only 12 touchdowns, and he can't afford to give the ball away against the Bruins. Coach Walker will have his hands full planning for Dixon. The good news is he has an extra week to prepare for the Duck's spread attack.
The running game looks potent again with
Jonathan Stewart
and
Jeremiah Johnson
as a one-two combination. Both could be thousand yard rushers this season and new offensive coordinator Chip Kelly will likely put the ball in their hands often. The Bruins run defense was impressive last season but they got knocked for a loop up at Autzen stadium. I think Walker will really bring a lot of blitzes and stack against the run this time around. That will force Dixon to throw against man coverage from the Bruin secondary.
Blocking for the Oregon backfield will be an offensive line that is anchored by junior Max Unger. Max is a versatile lineman who could find himself moved to center to replace Enoka Lucas. Geoff Schwartz is back for his third season as a starter. He's a huge obstacle at 6-7, 340-pound but he could have a hard time with the smaller, quicker Bruin ends. The rest of the line is solid and the two new replacements should be comfortable in their starting roles. It should be a battle all day long with a blitzing Bruin defense coming from all angles at this unit.
When these Ducks take to the air, they have go-to junior receiver
Jaison Williams
as a key target.
Brian Paysinger
made some big plays last season and he'll contribute as well. The other receivers and tight ends are a bit of a mystery. How this unit performs this year, and at the Rose Bowl in particular, will be a major factor in Oregon's success this season. The Bruin secondary should be a tough machup for this unit. Trey Brown and Rodney Van will have a lot of pressure to halt the passing attack so Walker can free up Horton to help stop the Ducks explosive backfield. Alteraun Verner has proven to be a great nickel back and I think the Bruin's secondary should do just fine against the spread.
Defense
The flipside of Oregon's experienced and powerful offense is a defense full of new starters and a lot of question marks. Injuries hurt this squad in 2006 and that could be a problem again by the time this game rolls around. They had a hard time stopping the run last season and Bruin running backs could have big games.
The front four have been dinged by a lot of injuries over the years. They also lose their top two defensive lineman from last season. Senior
David Faaeteete
and junior
Nick Reed
return and the Ducks get back end
Victor Filipe
and tackle
Cole Linehan
from injuries. If the UCLA offensive line can make some holes up front then our running backs can exploit a rather weak linebacking corps. I'm sure the Bruins will look to run a lot of traps and screens to suck in the front seven and give the backs some room to run.
The biggest loss on defense was linebacker Blair Phillips who easily lead this team with 105 tackles last season.
A.J. Tuitelle
is undersized and
John Bacon
is starting for the first time but both have been in the program for a long time. Bellotti might have to press some in-coming freshman into immediate service to help out. Oregon wants to blitz more this season, so this unit will have a lot of pressure to perform.
The one squad with some real depth and talent is the secondary. They are led by three-year starter
Patrick Chung
. The corners were young last season but with a year under their belts they should be much improved. This group could cause some problems for UCLA as Jay Norvell will be looking to pass a lot more this season. If the running game gets going then that could open up some opportunities for some play action passes and some deep strikes from strong armed Ben Olson.
Special Teams
The Ducks lose both their starting kicker and punter. Transfer
Josh Syria
will take on punting duties and
Daniel Padilla
will be the place kicker. Oregon's special teams coverage was very poor last season but the return of coach Tom Osborne, this group should be much improved. Jonathan Stewart will be back taking kick returns and he could be deadly with the new rules. Good news is the Bruins have spent
a lot of time focused on kick coverage
this fall and they should be well prepared by the end of November.
The Verdict
One thing the Bruins need to be careful about is looking ahead one week to the big showdown with USC. Of course, the Ducks are in the same boat, as they play in the Civil War against Oregon State the following week as well. I think both teams will be focused and I'm sure UCLA will benefit from having an extra week to rest, heal, and game plan for the Ducks.
I think Chris Markey could have a big game. He had his first real break-out performance against the Ducks back in 2004. In his final home game, he could leave his mark again. The Bruin defense will have their hands full but I think they should be well prepared for this game. The UCLA offense should also be gelled by this point in the season and firing on all cylinders. The Bruins have been hard to beat at home (12-1 in the last two years) and if they lose the prior week to ASU,
like I predicted
, then they'll have even more motivation to perform well against the Ducks. I think a UCLA victory is in the works, but like most games this season, it might come down to the fourth quarter.
CalPoly's Predicition: UCLA victory. Record: 9-2 (6-2).
(photo credit: Ghetty Images)