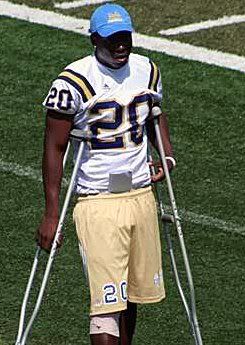 A few months ago I wrote up an article talking
about how deep UCLA
was this season. Well, some of that depth is being challenged by injuries during training camp. In particular the backfield is taking more than its fair share of hits this pre-season.
Injuries are always a part of football and developing quality backups is important for any program. However, if you lose a lot of guys at one position then even the most well stocked team could exhaust it's depth. To compensate, you end up switching players in from other positions. That doesn't help UCLA much because of the complex WCO that is utilized. It will take a new player longer than average to learn the new position and, unfortunately, limits how Norvell can use them during a game.
Here is the injury parade so far:
Tailback
Derrick Williams (3rd string): medical retirement, gone for career.
Raymond Carter (3rd string): ACL, gone for the season.
Chane Moline (3rd-string/specialist): broken hand, limited action 6 weeks.
The injuries to Williams, Carter, and Moline aren't the end of the world. Chane could be back and playing in the 5th week of the season and UCLA should be able to manage without him. Williams and Carter were going to see limited minutes anyways this year. We still have Markey and Bell and both look good going into the season. If one of them gets hurt, however, then we're digging deep at tailback. Ryen Carew and Craig Sheppard are next in line. Both are untested in games though they have been seeing more snaps during camp. Christian Ramirez has also been moved from safety to TB to help fill in some depth.
Fullback
Michael Pitre (1st string): knee. Under observation. Out until further notice. Another MRI today. Could miss significant time.
Trevor Theriot (2nd string): hamstring. Missed practices. Limited in practice today.
This is where things start to concern me. Pitre had knee surgery in the off season and now his knee isn't looking good. I was at the practice where he got hurt and he went down hard and stayed down for a while. His first MRI came back negative but he has been pulled out of practice and the knee is still bothering him.
Behind him is Tever Theriot, who has played well in place of Pitre during camp. Unfortunately, he came up gimpy the other day with a hamstring injury. It sounds like he is back in practice today, so let's just hope this doesn't turn into a nagging problem. Deeper down the chart is Dylan Rush, who did well in the fall scrimmage. Coach Dorrell has also moved over backup linebacker Fred Holmes to full back. Let's hope he isn't need during the games this season.

Quarterback
Pat Cowan (2nd string): hamstring. Under observation. Out until further notice. MRI today. Could miss significant time.
This is really scary news. Not because I don't have confidence in Ben, but because UCLA is now just one injury way from having to start walk-on red-shirt freshman MacBeth Thompson. With Rasshan moving to WR this off season, UCLA doesn't have much depth after Ben and Pat. Thompson says he has learned some of the playbook but we all know how hard this offense is for QB's to pickup. Behind him is Chris Forcier who is nowhere near ready to play. Only in an absolutely catastrophic scenario would he be conscripted into action and his red-shirt burned.
It isn't panic time yet. We still have our first string at TB and QB and the FB probably wasn't going to be used as much this season anyways. If Pitre isn't available then maybe Norvell will call up more multiple-receiver sets to compenstate. However, this team is becoming dangerously thin at some of these positions and the Bruins really can't afford any more injuries this early in the campaign.
(photo credit: Kevin Curtis, curtke@gmail.com)