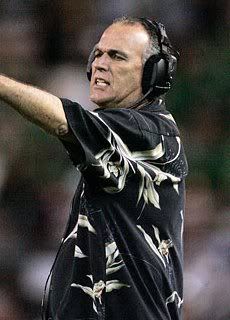 How many more last minute rumors can there be? Well,
maybe one more
. I guess UCLA and Dan Guerrero are
still looking at candidates
. The name June Jones is being kicked around and his recent success at Hawaii has some in the athletic department enamored. His name came up earlier in the process but it was shot down because he wanted to bring in his own defense staff. Guerrero has been adamant in trying to keep Walker at UCLA. But maybe with the
push from Washington
for Walker's services and some talk that Walker might bolt if Neuheisel is hired, maybe Dan is reconsidering Walker staying as a prerequisite for a hire.
(photo credit: STAR-BULLETIN)