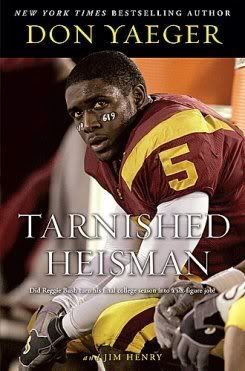 With the release of the investigative reporting book on Reggie Bush coming out in 6 days, a website is supposedly being setup to reveal documentation of the almost $300,000 he and his family received in illegal benefits. The site,
www.tarnishedheisman.com
, has yet to go live, but
it should be up
to coincide with the release of the book on January 15th. I'm sure they'll be getting a lot of traffic on that day.
The domain is registered to a company run by the book's author, Don Yaeger. Yaeger is an investigative reporter and associate editor for Sports Illustrated. The initial reaction from the
LA Time Trojan blog
: "it doesn't look good".
That's just music to my ears.