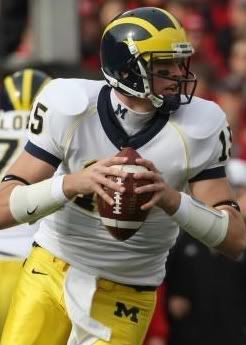 With the hiring of Rich Rodriquez at Michigan, things are changing in Ann Arbor. Ryan Mallett's transfer was probably one of the worst kept secrets of the last few weeks; yesterday, he officially packed his bags for greener pastures. Lots of
programs are gunning for former Wolverine backup
QB and UCLA is right there in the mix.
Right now Mallett has a few schools very interested in his services. Tennessee might be the favorite with Texas A&M, Arkansas and UCLA also perusing the tall signal caller. The conventional wisdom is that Ryan would follow his QB coach, Scott Loeffler, to whichever school picks him up. Tennesee is also considering hiring the former Michigan offensive coordinator, Mike DeBord, so a package deal with Mallet could be in the works. There was talk that Loeffler,
who interviewed with Neuheisel this week
, might come to Westwood.
Mallet's measurable:
Height: 6'6"
Weight: 247
40-yard: 5.14s
He looks like he has decent mobility for a guy so big. His 40-yard dash time is dirt slow. He towered over the kids at the high school level and could run around a bit. At the D1-A level, he'll play exclusively as a pocket passer. That's pretty much the way he was used at Michigan.
High School Highlight Reel
High School Highlight Reel
In many ways, Mallet draws comparisons to Ben Olson. Big, tall, cannon-for-an-arm. Very highly recruited coming out of Texarkana, Texas. He played in the Army All American Bowl back in 2006 and both Scout and Rivals ranked him as a 5-start prospect. You know a kid is big time if
he has his own fan site
.
He's also a bit slow like Olson and he has a lot to learn. His completion percentage for 2007 (43%) was pretty bad and he only threw 7 TDs to 5 INT. That was as a true freshman and sadly that was probably better than most of our QB's. Bringing along his quarterback coach and continuing to develop him would be a must. Since the whole team has to learn Neuheisel's new offense, he wouldn't be any further behind than anyone else in this program. He might even benefit from sitting out a year.
If Mallet comes to UCLA, he would have to sit out the 2008 campaign but he would have three years of eligibility left. That would put him right in line for an open quarterback position in 2009 as both Olson and Cowan will graduate after this next season. That might be a motivating factor for Mallett in choosing Westwood and having a former NFL QB coach in Neuheisel probably doesn't hurt either.
(Photo Credit:
Getty Images)