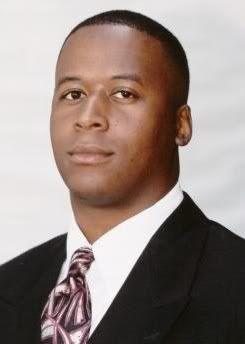 There was an
interesting post
on Scott Wolf's blog yesterday. It was about Ken Norton possibly coming to UCLA but it ended with another coaches name: Nigel Buron. Now, normally, I disregard every rumor Scott Wolf publishes as patently false (he did say that Rick Neuheisel was definitely
not
going to be our head coach). But I think this one might have some legs. So who is
Niguel Burton
?
Burton is currently the secondary coach up at Oregon State. Nigel has been on the staff with the Beavers for five years and their defense was one of the best in the conference this season. He is considered a fantastic recruiter and an up and coming coach. Before OSU, he coached at Portland State for a few seasons and at South Florida. He did an internship with the Denver Broncos for a season to help gain some experience at that level.
The interesting connection, and why his name is coming up as a possible defensive assistant coach, is that Burton and Rick Neuheisel were both at at Washington briefly in 1999. Since
Gary DeLoach, the current secondary coach is on his way out, Bruton could take over those responsibilities. If Norton gets hired on the staff then there might not be room (i.e. $$$) for another defensive coach. But if Norton does not come to UCLA then Burton could be a real possibility.

I like the idea of brining in Burton. He has proven to be a good coach for the Beavers and he fills an immediate need on the staff. If his recruiting prowess is that good then he could be a great addition. He would have connections to the Pacific Northwest to complement the recruiting of LA that Walker and Scott have covered. Of course, bringing in Norton has the added benefit of hurting USC. So both options are pretty attractive.