With the coaching staff coming together and less than a month left before letters of intent are signed, lets see where we are at with this 2008 recruiting class. I've updated the
recruiting snapshot
(make sure you zoom in on the image) with all the latest ratings and ranking from both Scout and Rivals. I've also included information on commits who played in the nationally televised high school All American games.
Commitments
A couple of things to note over the
last version
(which was compiled back in November) is that Jonathan Franklin went from being a Safety to being classified as a running back by Scout. Franklin ended up playing running back his senior season and some believe he wants to play that position at the collegiate level. Rivals ranks and rates him as an "athlete" and Franklin definitely fits that category. He's a guy that could easily play on either side of the ball.
The other big change was the removal of Aundre Dean from the class. Scout has removed him as a commit as well, but Rivals still lists him as a "soft verbal" to UCLA. From the comments that I've read from Dean, it sounds like he isn't committed anywhere. I think the Bruins still have a shot at him, but it would likely be an outside chance at best.
The rest of the rankings are about the same, with guys just going up or down a few ticks. The big exception to that was Nelson Rosario. He was a bit of a sleeper coming into the 2007 season, but the Bruins picked him up early and it looks like we have a gem. His rankings sky rocketed and he went from one of our lowest rated receivers to the highest. He reminds me of Dominique Johnson (kind of tall and lanky) and if he plays like Johnson did this last year, he'll be a good one for the blue and gold.
One other observation is how talented our defense recruits are in this class. If you look at the All American icon (AA) in the snapshot, you'll see that 8 of our 9 defensive commits played in high school All American games. I think we all knew those players were good, but that just shows you how talented these guys are from a national perspective. With the retention of coach Walker and most of the defensive staff, I think we got a pretty good chance at getting all of those guys to Westwood next season.
Which brings me to the state of our recruits. Obviously, the coaching staff is still solidifying, and Rick has only been on the job for a little more than a week. He's been making calls and meeting with recruits, but with so many participating in All American games (and the week of practice that proceeded those games), he still has to make the rounds. Right now, Scout lists the following players as "soft verbals":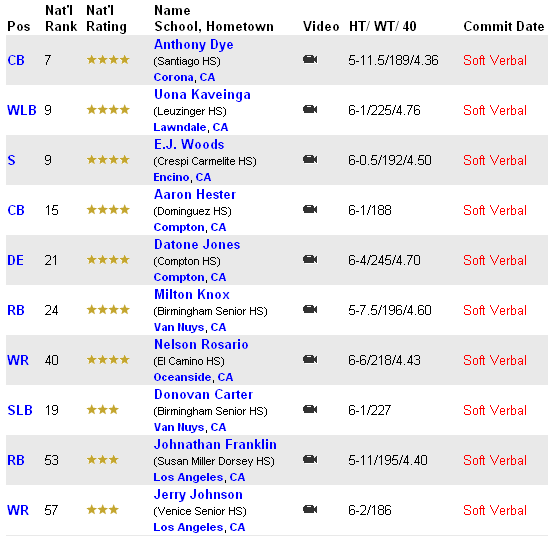 Ouch. That's half the class that is still listed as being on the fence about their decision. Neuheisel definitely has his work cut out for him. The other impact to these recruits' decisions would be the status of coach Eric Scott. If he is let go then that could tip a few guys the other way. I have the feeling that most of these guys will stick with UCLA. There
is talk
that EJ Woods might be the softest of these soft verbals. Grades might be an issue and he is being recruited hard to other programs. I wouldn't be shocked if he chose Washington or Colorado this February.
That being said, I think a lot of these guys are going to be listed as solid verbals soon. Aaron Hester has
told the local reporters
he is solid after talking with coach Neuheisel, and
Knox and Carter
sound like they are also on board. I'm sure many are keeping their options open, but I full expect almost all of these guys to sign with the Bruins.
Recruiting
Assuming the coaches can shore up the current commits, let's talk about filling the last few rides. UCLA has about 4-5 more scholarships it can give for 2008. Looking at the holes in the class right now, you would have to think that offensive lineman and defensive tackle are the highest priorities. Apparently Bob Palcic, the newly hired O-line coach,
enjoys recruiting
and I'm sure he'll be hard at work in that department starting tomorrow.
Two of the biggest recruits that UCLA could go after are
Hammani Stevens
(C) and
Vaughn Dotsy
(OT). Both are interested in the Bruins and Stevens briefly committed to UCLA back during the summer. Dotsy is a huge dude, but he doesn't have an offer from UCLA.
Jonathan Martin
is another player, who was a one time Bruin commit. He chose Stanford over UCLA a few months ago, but I'm not sure if that decision is entirely finalized, because he was waiting for his application to be accepted. Scout still lists him as not being a verbal to the Cardinal, so maybe UCLA is still in the mix.
For defensive tackle, UCLA missed out on a good one with
Willie Mobley
. He had UCLA on his short list but he never got an offer. Who knows the reasoning behind that but Mobley has signed on with Ohio State. I don't see any other defensive tackles on UCLA's radar,so this might be a position that goes unfilled. Unless Rick can steal someone away from their prior commitment?
Another guy is
Adam Long
(DB), who currently has offers from UW, UCLA, Cal, and Oregon State. It looks like he is leaning toward the Huskies. I think our defensive backs are pretty well set but in case some of the soft verbals don't stick, it is always good to have other options.