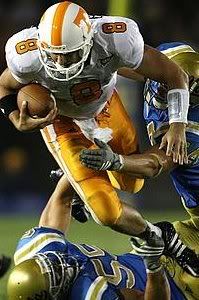 After the season opener against San Diego State, the Bruins travel east for a showdown with the Tennessee Volunteers in the heart of SEC country.


Lane Kiffin takes over the reigns of a Tennessee team that had one of the worst seasons of the past two decade. He stirred up some controversy this off season, but he also landed some great talent in
Knoxville. You can expect Kiffin to get his team fired up for some payback after a prime time loss to the Bruins last year.



Offense



In last year's game, the Volunteers struggled to move the ball with their inconsistent junior quarterback. This year, Johnathan Crompton is an experienced senior and his results on the field should be much better.

The receiving corps had a few guys dinged up this summer, but the majority of the starters should be ready to go for this game. I'm not too worried about them challenging our secondary, but expect Tennessee to throw away from Verner and pick on freshman Aaron Hester.

Even with an improved passing game, the Volunteers will likely lean on their running backs this season. Aaron Foster is gone to graduation, but they return their 2nd string tail back, Montario Hardesty, who scored both touchdowns against the Bruins last year. The Volunteers have a stable of young, talented backs after Hardesty, including freshman phenom Bryce Brown.

Whoever gets the rock will have an experienced, senior-laden offensive line to run behind. The Volunteers return four of the big guys up front. UCLA's defensive line will be severely challenged in this game and it will be up to Brian Price and the linebacking corps to step up big.

Why this Volunteer team didn't run, run, run last year at the Rose Bowl is still a mystery to me. They did well on the ground collecting 177 yards and two scores. You can bet that the new coaching staff will focus more on the ground game this time around.



Defense



Last year, in the Rose Bowl, the Volunteer defense went into prevent mode with a few minutes left to play in the fourth quarter. Like the old expression goes, the only thing that prevented was victory. Expect new defensive coordinator Monte Kiffin to bring a much more aggressive and attacking game plan in this rematch.

It is a huge understatement to say that Kevin Prince will be going into the lion's den at Neyland Stadium. One Hundred Thousand orange clad fans will greet this kid on his first college road game ever.

Chow and Neuheisel will try to establish a running game early to take some pressure of the freshman. That won't be easy against a Volunteer defense that ranked 12th in the nation last season against the run. Like the Bruins, Tennessee has some depth concerns along their defensive line, but that should not be an issue when UCLA comes to town in early September.

One player that Prince will try to avoid every play is All American free safety Eric Berry. He was the SEC defensive player of the year last season and is close to setting an NCAA record for interception return yards. The rest of the secondary is talented as well and the Bruins will not want to test this unit very often.



Special Teams



Missed field goals doomed the Vols last year. Place kicker
Daniel Lincoln returns and I'm sure he's worked on his accuracy in the offseason.
Berry is so talented, he could return punts and kicks this season.




The Bottom Line



The Volunteers are in their first year under an entirely new coaching staff and scheme. UCLA will be their first real test of the season and they will likely have some hickups.

However, it will take an immense effort from Kevin Prince and the offense to win this one. It might be too much for ask so early in the season.

The last PAC-10 team to visit Nashville got embarrassed. I think the Bruins will do much better but I don't see this one ending in victory.

Interesting Fact


This season, UCLA is playing it's two most common non-conference foes. This will be the 14th meeting of the Volunteers and Bruins, second only to week one opponent San Diego State who the Bruins will be playing for the 22nd time.