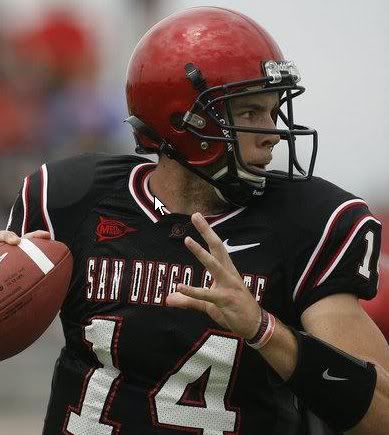 First up for the Bruins this year is a rebuilding San Deigo State program. Fresh off the hire of Ball State's Brady Hoke (who went 12-2 last season with the Cardinals), the Aztecs have a long way to go before they'll compete with the best of the Mountain West Conference. Which isn't to say they won't be a good test for the Bruins. This is a team that could throw a wrench into UCLA's game plan for 2009.
Offense
The strength of the Aztec's offense will be it's passing attack. Ryan Lindley showed a lot of promise last season as a freshman. His 16 touchdowns and 2,650 yards last season were impressive. He'll have the services of a number of talented receivers. The Aztecs return three starters from last season including Vincent Brown (the leading receiver) and add senior DeMarco Sampson who had a strong spring.
UCLA's secondary should be up to the challenge of containing the Aztec's passing game. Verner doesn't need much help, so Moore can backup Hester. I could see Bullough utilizing a nickle defense at times and asking his front four to put pressure on Lindley.
One big problem, historically, for San Diego State has been a lack of strong, physical play. Last year, the offensive line took a beating and the running game was one of the worst in the country. Hoke stressed mental toughness during the spring, but I don't think this Aztec team will be entirely remade by the Fall.
They have experience at tail back, but senor Atiyyah Henderson isn't a big back and not much of a threat. He only put up 490 yards last season and his teammate Brandon Sullivan was no better. Bozworth, Ayers and Carter shouldn't have much trouble containing the backs and forcing the Aztecs to have to pass for first downs.
Defense
The Aztec defense was pretty bad last season, giving up a ton of yards and points in a very strong MWC. New defensive coordinator, and former New Mexico head coach, Rocky Long should give them an instant shot of confidence and inject some more toughness.
The Aztecs return pretty much their entire front 7. They weren't very good at stopping the run last year, nor were they good at getting after the quarterback. That should play well for UCLA, as Chow would probably prefer to take some of the pressure of of Prince in his first start by running the ball down SDSU's throat.
The Aztecs do have a good linebacker in Luke Laolagi who had almost 100 tackles last season.
Long will be installing his signature 3-3-5 defense. That will likely be a challenge for the Aztecs to execute in their first few games. Not only is it a brand new scheme, but they only return 1 player, Aaron Moore, in the secondary.
The 3-3-5 should allow UCLA to run fairly well, but it's a tricky defense to play against as a quarterback. The extra defensive back will likely be a big challenge for Prince. Ben Olsen struggled mightly against Rice in 2006, which also employed a similar defensive scheme. The other big downside is that the Bruin's won't face a similar defense all season, so the this is a one-time learning experience for Kevin.
Special Teams
Both punter Brian Stahovich and place kicker Lane Yoshida return. They were solid, though not spectacular, last season. Wide receiver Mekell Wesley is back to handle punt returns duties.
The Bottom Line
With superior talent, home field advantage, and an extra year with their scheme, the Bruin should have the advantage at the Rose Bowl. I'm not expecting the UCLA offense to run away with the game early, so a costly fumble or interception could keep SDSU in this one. At the end of the day, this should be a
Bruin victory
.
Interesting Facts
SDSU has a number of connections to UCLA. Kevin Craft was their former quarterback and his dad, Tom Craft, was their coach. Both Aztec Coordinators, Rocky Long and Al Borges, were former coordinators at UCLA. Borges was the OC under Bob Toldeo (1996-2000) and helped direct some of the best offenses in Bruin history. Rocky Long was the DC under Toldeo (1996-1997) and is considered one of the better coordinators of that era of UCLA football.