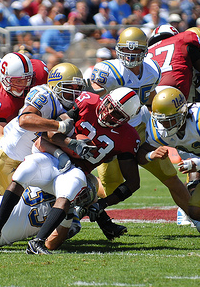 After a bye-week, our boys head north to open PAC-10 play against the Stanford Cardinal.
The month of October will make or break the Bruin's season. They play five PAC-10 opponents who make up the bulky middle of the conference. Stanford is one of those teams, and the Cardinal could finish from 3rd to 8th and anywhere in between.
Offense
Jim Harbaugh got great news this off season when running back Toby Gerhart decided to stick with football and not enter the MLB draft. Toby was the main reasons Stanford ranked 19th nationally in rushing offense last least.
Gerhart is a beast of a running back, built like a tank and difficult to bring down. He piled up 138 yards and 2 TDs last year at the Rose Bowl. He will be defensive coordinator Chuck Bullough's #1 priority entering the game. Expect the Bruins to stack against the run and strong safety Glen Love to play a crucial support role.
Even though the Cardinal ran the ball well last year, they balanced that with a very poor passing attack. Like Neuheisel, Harbaugh has decided to put a freshman signal caller on the field this fall to try and jump start the offense. Andrew Luck has surpassed senior quarterback Travita Pritchard on the depth chart and hopes are high on the Farm that the 4-star recruit from Houston Texas will be much more productive.
Upfront, the Cardinal must replace two all-league lineman and that task won't be easy. In the off season, the coaching staff shuffled and experimented with a number of different player combination. They'll be looking for cohesion, much like UCLA's O-line, and they may not have found that chemistry when the Bruins come to town in week five.
Defense
The Cardinal are tough up front but this defense gets progressively weaker, and less experienced, in the linebacking corp and secondary.
There is little doubt that the strength of the defense is along the line. Ekom Udofia, Erik Lorig, and Sione Fua return and they'll put together a strong pass rushing attack.
It will be imperative for the UCLA offensive line to hold up in this game. If they can give Prince some time to find targets, he should find success against a suspect Cardinal secondary.
Bo McNally is the veteran of the unit at free safety but the rest of secondary isn't dependable. They do have some young talent and Delano Howell, who switched from running back to strong safety, looked good in the spring.
The linebacking corps is solid, but not exceptional, and I'm sure Norm Chow will look for his fullbacks and Tight Ends to create some mismatches here.
Special Teams
Stanford loses a consistant place kicker in Aaron Zagory who made 14 of 17 field goals last season. Travis Golia is tagged for the slot, but he's inexperienced and a missed kick in this contest could be a difference maker.
The Bottom Line
Like the game against K-State, this contest against Stanford may be a good opportunity for a young Bruin offense to shine.
Stanford returns a lot of starters and they have some young talent but there are still big question marks at quarterback and on defense.
The Farm is never an imposing place to play and UCLA has won it's last two contests there. The Bruins also have an extra week to prepare and heal up for this game.
Again, I think this will be a very close game bu tI think an improving Bruin offense takes off and puts this one into the win column.