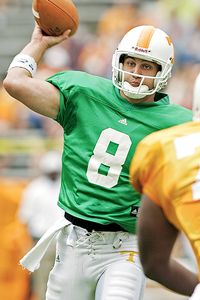 Spring practice wrapped up last week and all our opponents have completed their sessions as well. Here is a look at the news stories coming out of those camps and what our boys might expect to face this fall.
Tennessee
The Vols have spent
some time retooling their offense
as well this April. Like the Bruins, Tennessee heads into the 2008 season with a new coordinator, three other new offensive assistants, a new scheme, new terminology and a new quarterback.
Jonathan Crompton
, a red-shirt junior, is the likely starter for the fall. He will be out of action for the next month after undergoing arthroscopic surgery on his throwing elbow.
There will be more of an emphasis on the running game this time around and the Volunteers have a good one in Arian Foster. The Vols return all five offensive line starters from last season and they will provide a big front for Foster, who's closing in on Tennessee's all-time rushing record.
BYU
The Cougars
return a very potent and experienced offense
this season. One area to watch is their offensive line. A big and powerful group last season, they've been dinged by the injury bug this spring. BYU returns a lot of players at the skill positions including QB Max Hall who had good games against UCLA last season. Junior wide receiver Austin Collie had a good spring and he'll challenge the Bruin's inexperienced secondary this fall.
On defense, the Cougars lose standouts Kelly Popinga and Bryan Kehl. Following in their footsteps, junior Matt Bauman has asserted himself as the new leader of the linebacking corps. He had a good spring and the BYU defense is starting to gel despite not returning many players from last year's squad. Their secondary is young and there might be an opportunity for our offense to throw on them this year.
Fresno State
One of the goals of the
spring for Fresno State
was to add some depth to a team that returns 10 starters on offense. To help fascilitate that, the veterans didn't see a lot of reps during the scrimmage. QB Tom Brandstater only had 5 pass attempts while his backup took most of the snaps behind center. The Bulldogs have a new offensive coordinator his season in Doug Nussmeier and it will be interesting to see if he opens up an FSU offense mainly known for a strong running game. They have a lot of experience along the line, though many of those starters missed time this spring with nagging injuries.
While the offense is mainly set, the defense has some had some holes to fill this spring. The Bulldogs lost Marcus Riley and Trevor Shamblee, two of their best linebackers. In their place, a
host of young players
are looking to fill those spots. They also have to fill the shoes of Tyler Clutts, one of their best defensive ends. They don't really have any super stars on this side of the ball and they lack a true leader.
Arizona
The Wildcats remind me a lot of our own team. An inconsistent offense. A defense without any big super stars. They're a work in progress that always seems to be rebuilding each and every season and this team is still struggling to learn the air-raid offense installed last season.
One area where the Wildcats will have some experience is at quarterback. Willie Tuitama is back for his third season and he had a decent spring. He threw for 231 yards on 20 completions out of 36 attempts and one touchdown
during the spring game
. The running game looks decent and their offense could be exciting if it really gets going.
The defensive side is going to struggle this season. They have a lot of new faces and not a lot of a talent. They lose two of the best corners in the league with Antoine Cason and Wilrey Fontenot departing. They do have some guys stepping up in Devin Ross and sophomore Mike Turner; both had good springs. Highly regarded recruit, Robert Golden, is coming in the fall to add some depth in the secondary.

Arizona State
ASU had a break-out season last year, but will they continue with that success in 2008? RB Shaun DeWitty adds some depth to the Sun Devil's running game. Along with Keegan Herring, this team should continue to perform well on the ground. Carpenter was only able to complete 7-of-21 passes for 88 yards in their spring game. They still have a lot of problems with their offensive line and it doesn't look like they've solved those problems yet.
Erickson looks to add more of a spread-element
to his offensive strategy. The team practiced with more four and five-receiver sets and tailback screens this spring. ASU might be making a name for itself as a defensive team this season. The defense was impressive throughout spring and dominated the spring game.
USC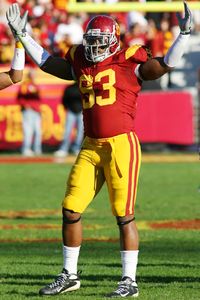 Across town, the Trojans are getting ready for another dominating season. They had a battle at quarterback that everyone knew would end in Mark Sanchez getting the starting job. So it was no surprise when he came out of the spring game as the leader. Mitch Mustain and Aaron Corp held their own, though, and the Trojans look loaded at the position for the foreseeable future.
One big piece of news was that Joe McKnight ended up missing the last week of practice because of eligibility problems. Those likely won't translate into him missing time this fall but it did give the other running backs a chance to shine. The
leaders at running back
for next season would be C.J. Gable, Staffon Johnson, and Allen Bradford.
On defense, junior cornerback Kevin Thomas, who missed the 2007 season because of a shoulder injury, has played well during the spring. He's already worked his way into the Trojans' third cornerback spot and he has the potential to take the job from starters Cary Harris and Shareece Wright.
California
The Bears had a lot of questions to answer this spring. The biggest one is who will be the starting quarterback? Nate Longshore has a lot of experience but he struggled mightily in Cal's downward spiral last season. Kevin Riley had his fair share of struggles as well, but he impressed in their bowl victory over Air Force. Unfortunately, Longshore missed the entire spring because of a pectoral injury. The decision, according to coach Tedford, could come as late as the week before their home opener.
Injures have
also set back other skill positions
on offense. Running back Javid Best is out with a hip injury. Which hurts because the Bears lost James Montgomery this off season when he transfered to WSU. Wide receiver Jeremy Ross is also sidelined with a sprained ankle. That leaves a lot of inexperienced guys getting playing time this spring and a lot of unresolved questions on the depth chart.
On defense, the Bears have been using a three man front during the spring. Redshirt freshman Bryan Anger has been wowing onlookers with his punting ability. He should help their special teams unit this fall.
Stanford
Like so many teams in the conference, the Cardinal are searching for a starting quarterback for the 2008 season. Tavita Pricthard, who lead them to their huge victory over the Trojans in the Coliseum last season, is the front runner at this point. He struggled, however, in their spring scrimmage where he only completed 12 of 28 passes for 106 yards. That leaves an opening for Alex Loukas and transfer Jason Forcier (Chris Forcier's brother).
Oregon
No team in the PAC-10 lost more offensive weapons this past season than the Ducks. The dynamic duo of Dixon and Stewart won't be wearing their Oregon uniforms this season and that has left the Eugene faithful asking a lot of questions about their backfield. They may of gotten at least one answer in LeGarrette Blout. The
Duck's running game got a boost
from the big, 235 lb running back. He bulldozed his way to 68 yards on just 5 carries during their spring scrimmage and he's drawing high praise and favorable comparisons to Stewart.
Oregon State
Oregon State struggled on offense last year but their defense kept them in a lot of games. Unfortunately for the Beaver Believers, that sturdy defense front seven won't be back this season. They did have some depth at linebacker and it looks like some young talent, including Keaton Kristick, Bryant Cornell, and Dwight Roberson will be an adequate replacement.
On offense, the
Orange and Black get back
standout receiver and return-man Sammie Stroughter. He'll be a big boost to a passing attack that had it's ups and downs last season under first-year quarterback Sean Canfield. Also back from injury is guard Jeremy Perry who missed all but one game in 2007 because of a broken leg. The rest of the offense was hit pretty hard by graduation, including the loss of running back Yvenson Bernard. They'll have a lot to work out this fall if they want to stay in the top-half of the conference standings.
Washington
The Huskies were
delt a tough blow
when they lost their best offensive lineman in center Juan Garcia with a foot injury this spring. A 6th year senior, Garcia was a second-team, all-conference selection last year, starting every game at center for the second consecutive year. Their line will be young and inexperienced, so it makes the loss of a seasoned veteran hurt even more.
After missing on hiring DeWayne Walker away from UCLA, the Huskies hired Ed Donatell, who spent 12 of the previous 13 seasons coaching in the NFL. Their defense will likely be a work in progress this season as their defensive line losses many of their starters. The Huskies are hoping to tap into some of their true freshman who enroll this fall at defensive tackle. That's not a good sign for the Dawgs as freshman rarely make an impact on the line.
Washington State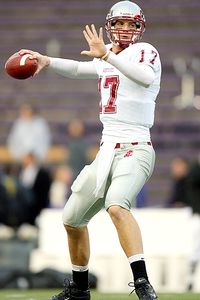 One of the stars of the Cougar's spring scrimmage was Michael Willis. The converted defensive back has been moved to wide receiver for the 2008 season. Willis pulled down 6 receptions for 129 yards and a touchdown during the game and he could be a another big target along with talented receiver Bradnon Gibson. Of course the Cougs still need to find a quarterback who can throw to these guys. Fifth year senior Gary Rodgers is the heir apparent to Alex Brink but he could be
challenged by junior Kevin Lopina
, who had a solid spring.
Head coach Paul Wulff is also introducing
a new no-huddle spread offense
this season. He'll run that offense behind a veteran line that returns four starters but no stars at running back. Things are so thin at tail back that when the spring session ended, WSU only had one healthy player available. Chris Ivory missed part of the spring with injury and he has also struggled to stay academically eligible. Dwight Tardy also watched the rest of the team from the sidelines due to injury.
Wulff and his staff switched to a new 4-3 defense moving standout linebacker Andy Mattingly to defensive end. This squad has struggled with depth and injuries in the past and they still need to find players in their two deep after the spring. WSU' returns three returning senior starters at linebacker including Greg Trent but their secondary has a lot of holes.
(Photo Credit: AP Photo/Wade Payne. Otto Greule Jr/Getty Images)