Just got back from the Spring Scrimmage at the Rose Bowl. All in all, it was a really fun time. The defense dominated but the offense looked better than I expected. I came away feeling pretty good about Kevin Craft and Chris Forcier as quarterbacks. Even Rashaan had some memorable moments.
When I rolled into the old Arroyo Seco, the team was just starting the "Bruin Walk". Good timing! It was cool to see the players make their way down to the stadium. The sad part was seeing Pat Cowan and Ben Olson limping along behind the team. One of the fans asked if Pat needed surgery and he said yes. Bummer. Looks like he is officially done. Coach Neuheisel stopped the scrimmage, near the end, and had Ben and Pat take a standing ovation from the crowd. It must be tough for these guys as Seniors.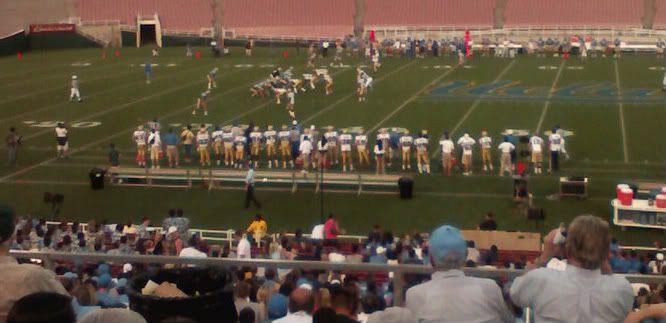 The scrimmage started out kind of slow. The offense struggled in the first few series. It was ones vs twos, so Craft and the first string had a bit of an easier time. He put together a nice series on his second (or third, I can't remember) time out. Hitting Logan Paulson across the middle for a big gain. He finished that drive with a Theriot touchdown on a draw. Nice to see the FB and TE getting into the mix. Craft hit Ketchum for a TD on a drive that started in the red zone and he also threw one interception. All in all, a pretty solid performance. I think he'll be a serviceable QB.
Forcier and Rashaan had a harder time. Both had fumbles and some missed snaps. Forcier put together a nice drive, starting at mid field, that ended in a Ramierez touchdown run. He had some crisp passes and he has some speed when he's running. It was a no-hit scrimmage for the quarterbacks, so we really couldn't see how well these two would perform when scrambling. Chris also threw a terrible pick early in the scrimmage that was thrown downfield without an offensive blue jersey in sight. It was sort of a mixed bag from him tonight.
Rashaan struggled the most of the three. He had some problems with the snaps, as you might expect from someone who really hasn't played much at the position this spring. But he did have two "wow" passes. One went to Taylor Embree on a long pass to the far side. That kid made a great catch and I see why people talk about him. The other was a scrimmage ending toss to a walk-on (Pearlman, or something, I forget) that was a perfectly placed ball right over the middle for six. The rest of the time he had "happy feet" and he would take off running before he really needed to.
On defense, Brian Price and Reggie Carter both had good nights. The name that really stood out for me was Courtney Viney. He was involved in a lot of plays and I saw him on the field for a big chunk of the game. He picked off a Kevin Craft pass and broke up some others. He reminds me of Trey Brown. He isn't the biggest kid but he's good at keeping position and getting involved in plays that come his way. He might get picked on early this season, but I think he can handle it.
On the injury front, John Hale was on crutches. Guess he got hurt this last week. Craig Sheppard was pulled from the game early when he got hurt on a play and I guess Glen Love also went out late in the scrimmage. We'll see what happened to those guys tomorrow.
Anyways, enjoy the pictures (sorry, they were taken hastily with my cell phone). The announced attendance was 15K. It was a fun atmosphere and they tried to make it feel as close to a real game as possible. The only difference was that I had great seats on the 50 and got in and out of the Rose Bowl in less than 10 minutes. Ah, if only it could be like that during the season.
(Photo credit: CPBruinFan)