Last year at this time, the Bruins had seven verbal commits. Not just scrubs either, those commitments came from some dynamic prep players like Rahim Moore, EJ Woods, Damien Holmes and Anthony Dye. This year? Just three. Across town, USC has already snagged ten commits in the 2009 class and that includes one of the best players in the country in quarterback Matt Barkley. So what's the hold-up in Westwood? Well there are a number of reasons.
Part of the delay was that Neuhisel and Chow had to install a new offense for this season. Hot on the heels of that was the start of spring practice and getting this team together to work out the depth chart. Going back to January and February, they had to bust their butts just to keep the 2008 class together. All of that together meant that they couldn't really focus on recruiting the next class. It will take those offensive coaches a while to build up relationships with the 2009 class, but they're already starting to reach out to kids. Once Spring practice is over, I'm sure all the coaches will be out on the recruiting trail in full force.
Here are some of the prospects that UCLA is recruiting for next season. A number of these guys have received offers from the staff and
many are rumored
to be attending UCLA's spring practice this month.
Cierre Wood
(RB) is one of the top prospects in the country at running back. Both Scout and Rivals have him rated #3 at the position and give him 5-stars. He has offers from a lot of big BCS schools like Nebraska, Florida, Notre Dame, and USC. A stellar prep athlete, he racked up over 1,400 yards last year on the ground and 17 rushing touchdowns. Add to that almost 600 receiving yards and another 7 receiving touchdowns and you can see why this kid is so highly coveted. He has a scheduled
trip to South Bend
this month and we could see him around Westwood this month as well. Wood is playing his prep ball up at Santa Clara High School in Oxnard. Here is a
video highlight reel
of Woods racking up over 300 yards in one game last season.
Manti Te'o
(LB) from Hawii is another highly regarded lineback on UCLA's radar. He is strong, athletic and a force on defense. Checkout some
spectacular highlights
from his 2006 season where he plays both linebacker, running back, and special teams. A devout member of the LDS church, Te'o is considering a mission before attending college. He is strongly
considering BYU
, but he also has offers from USC, Notre Dame, Colorado, and Stanford.
Shaquelle Evans
(WR) is considered one of the best receivers in the west and UCLA is recruiting him hard. Out of Inglewood high school, Evans was one of the standouts at the B2G Elite Football Program in 2007. He's seen his stock rise considerably this spring and he has already received offers from Notre Dame, USC, Oklahoma, and LSU to name a few. Evans has a quick first step and some pretty good top speed. He could be a good deep threat target for the Bruins. I can see him getting into the rotation early with UCLA's receiving corp losing some of it's top players over the next two seasons.
Tyler Gaffney
(RB) out of San Diego Cathedral Catholic racked up 1,399 yards and 20 touchdowns last season to help lead his team to the CIF division III championship. He has a competing offer from Stanford, so you know he is a good student and someone the Bruins will value.
Aaron Murray
(QB) attended the
first day of practice
and the Florida native has UCLA on his short list of schools. He has 52 scholarship offers from pretty much every major BCS program in the country, so it says something that he would fly across the country to meet with the staff.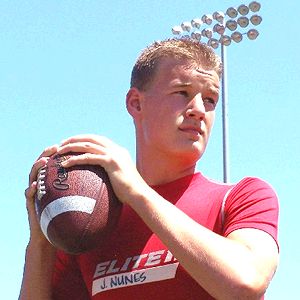 Josh Nunes (QB) from Upland High School has had UCLA high on his list of colleges for a long time. This prototypical pocket passer
is a smart player
who has a quick release and makes good decisions. His stock has risen this spring and he has a lot of offers pouring in from the west coast. Nunes has visted Westwood a few times already but it doesn't look like coaches Chow and Neuheisel are going to make a quick decision on a quarterback for this '09 class.
Devon Kennard
(DE) is a super-star talent from Arizona who has topped the scouting reports at that position in many of the recruiting services. The Bruins are competing for his services with USC, Texas, and many other top programs across the country. ESPN has a
great review of Kennard
. They describe him as highly productive and disruptive. He's explosive out of his stance and generates good power coming off the ball.
More to come later...