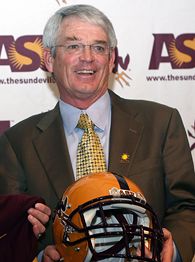 I've always thought of Arizona State as being our close brothers in the conference. They've had their ups and downs, won a couple of championships along the way, but they've mainly hung around .500 this decade. Heck, their one big season (2004) ended with 3 loses and a Sun Bowl victory. It all sounds so familiar. Yet, ASU comes to play in the Rose Bowl this Saturday with an 8-1 record (their only lose to #3 Oregon) while UCLA is on trajectory for another mediocre season.
Let's see.. What's different in Tempe this year? The players? Not really, they got back some great offensive weapons like Torrain and Carpenter but lost a lot of defensive personnel
coming into their 2007 campaign
. Is it their schedule? Eight home games helps, and a cupcake filled OOC doesn't hurt, but the Sun Devils still play the same conference lineup as UCLA. Maybe the water? No, that's not it either. So what is it about this team that has them doing a 180 from their prior meandering ways? Dennis Erickson, that's what. What a difference a coach makes.
The Devils were a wildly inconsistent team under Dirk Koetter. They were always an offensive power but they could never muster a decent performance on defense. Even when their offense was clicking it would usually become one dimensional. Great passing one year, poor the next. There was the heart breaking last second defeat to LSU in 2005 and a humiliating blowout loss to Hawaii last season. The whole Rudy Carpenter vs Sam Keller debacle. Did I mention the "we surrender" punt against the Trojans in the coliseum? Until they beat Stanford this year, the Sun Devils hadn't won a game in California since 2002 when they played San Diego State. You had to go all the back to the Butch Snyder era for a conference victory in the Golden State (1999).
It's not for lack of talent that the Sun Devils sputtered. There was a point during this season that Sun Devil quarterbacks (or former Sun Devil quarterbacks) were starting at three different D1 programs. Sam Keller at Nebraska, Rudy Carpenter at ASU, and Max Hall at BYU. How many programs would kill for that kind of depth at QB? The talent and skill have been there, it just hasn't been utilized properly to produce wins.
Consistent inconsistency, as we all painfully know, is the sign of poor coaching. Well, those days may be over in Tempe. Erickson has brought this team into alignment for the first time in over a decade. The offense is producing, like you would expect, but it is balanced. ASU was 3rd in the conference in both rushing and passing numbers heading into last weekend. Their defense, however, has been the real story. The Devils used to run a bend-and-break defense before that would routinely give up huge yards, and points, to opposing teams. This year they rank first in a number of defensive categories with a #12 in the nation scoring defense. That hasn't been against the greatest competition, but ASU is beating the teams it is supposed to beat. Which is more than the Bruins can say.
Another intriguing element in this team is they way they respond and recover from adversity. ASU has trailed in almost all of their games this year. Against the Bears, they went down 13-0 before they adjusted. California didn't score a single point in the second half and ASU went on to outscore them 31-7. These aren't the last-minute, 4th-quarter, comebacks that the Bruins magically produced in 2005. This is a team that adjusts and adapts to it's opponents game plan and then shuts them down. You might call it luck, but I call it good coaching. Don't panic, do what you do, and perform. Even against a top-ranked Oregon team the Devils kept fighting.
Are the Sun Devils really for real? Who knows. ASU still has to play some tough games and they probably won't make the Rose Bowl. Still, for a first year coach, Erickson has his team believing in themselves. He brings decades of experience, but maybe more importantly, an expectation to win. He has won PAC-10 championships before. He's won national championships before. He's got a buzz and a positive vibe going in Tempe and you can just feel them gaining momentum after each victory. As UCLA stumbles through another season with Dorrell at the helm, Arizona State passes us by in the race to the top of the conference.
What a difference a year makes. What a difference a coach makes. Those lucky Devils.
(Photo credit: AP)