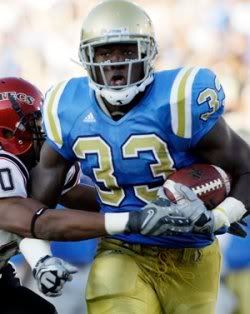 There were flashes of brilliance mixed in with freshman mistakes last night. The Bruins beat-up an over-matched Aztec squad but looked far from perfect in doing so.
It was a gorgeous day at the Rose Bowl on Saturday. That late summer sun was beaming down onto the greatest tailgating spots in the country. We had the grill going, the beer was flowing, and everyone was pumped to get the 2009 season started.
To my surprise, the air was crystal clear. You wouldn't have known that a fire ragged around the Arroyo Seco earlier in the week if it wasn't for the massive plum of smoke off in the distance.
The success of the first few SDSU drives weren't entirely surprising, in that UCLA had no idea what to expect from this team. It was well documented that the Aztecs had closed practices and Neuheisel and his staff didn't have any film on them.
The Bruin defense really shot themselves in the foot early. Two penalties on 3rd down, including a pass interference penalty in the end zone that gave Lindley and the Aztec a fresh set of downs, kept that first drive alive. Andrew Abbott got burned deep in nickle coverage and that lead to the 2nd touchdown.
Besides those two mistakes, the defense was stout.
There were bone crushing hits by Carter and Bosworth. Yet another ATV touchdown on a blocked field goal. The record tying three picks by Rahim Moore. All of that put the exclamation point on a dominating final 3 quarters of football.
The big news of the night, however, was the offense.
Kevin Prince looked immensely poised in that first half. I was very impressed. He connected 6 of 7 times on that first drive, including a nice shuffle pass that was negated by a holding penalty. His arm strength and accuracy are huge assets for this team and something that we haven't seen in a very long time.
In the second half, Prince reminded us that he is still a red-shirt freshman.
The two interceptions were head scratches; he threw them almost directly to the defender. The confusion could be attributed to the unconventional 3-3-5 Aztec defense. A more likely answer is that he made usual freshman-in-his-first game mistakes.
The running game looked very good. Their were some great runs by Coleman, Franklin, and Knox. The 3 youngsters were explosive.
In particular, Coleman is just a beast out there. He looks like a tank rolling down the field. The last two years he hasn't had much hype compared to the other tail backs. But every Saturday, he just comes out and gains yards for this team.
The offensive line was much, much improved. There were some nice holes for the backs and Prince actually had time to go through his progression. Of course, some of that success has to be taken with a grain of salt when you consider the level of the competition.
They did look good though. Not bad considering that 3 of those guys were making their first start in the blue and gold. It's a young line with 3 sophomores, a junior, and a true freshman making up the starting unit.
In fact, it was youth all around last night. There were tons of true and redshirt freshman on the field, especially on offense. Prince, Preselly, Breuhaut, Thigpen, Carroll, Knox, Franklin, and Su'a-Filo all saw action last night.
These guys are going to be clicking as a unit in a few years.
Definitely some great moments last night. Some glimpses of the future and the possibilities it holds.
(photo credit: ESPN)