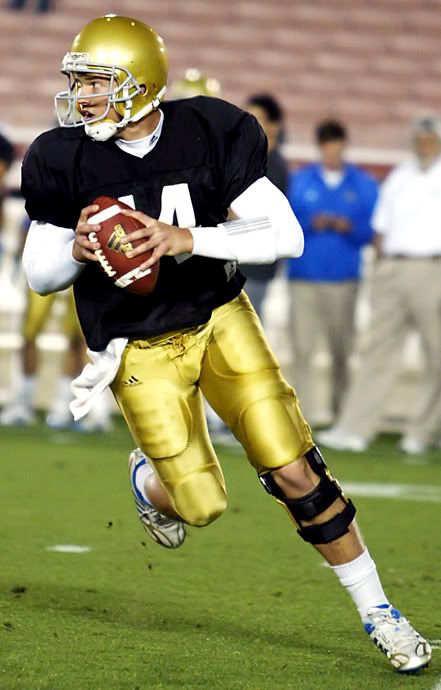 This will be the first of a three part series looking at the 2009 UCLA Bruins.
It's that time of year again. Arm chair analysts are out in force giving their predictions for the up coming college football season. Let me tell you, those guys don't know spit about UCLA football. They write about a hundred articles (one for every team) and I'd guess not a single one of them watched the Bruins play last year; not to mention a practice or the spring scrimmages.
That's why I like to write up my analysis of the Bruins. I may not be the most knowledgeable guy nor the best writer, but I do follow this team closely and I know how they stack up against the rest of the conference. Check in over the next month as I take an in-depth look at the Bruins and each of our opponents as well.
Offense
UCLA has an unproven quarterback. Again. The offensive line is full of inexperienced and undersized players. Again. There aren't any guys in the skill positions who can take over a game. Again. On paper, this offense isn't a whole lot different from other squads over the last three years and it is very unlikely they will take this team to the top of the conference.
What is different this season is that we have some young, skilled guys in key positions.
Most notably red shirt freshman Kevin Prince. Repeat after me: Prince is the key to the season, Prince is the key to the season, Prince is the key to the season. It really can't be stated too many times. Prince's development will go hand-in-hand with the team's ability to win.
Even though Prince is playing his first football game in nearly 3 years (he missed his entire senior season at Crespi due to injury) he brings a lot to the table. Most importantly, he is a smart player who has a firm grasp on Chow's offense. If Prince can avoid the mind-numbingly horrible decisions that Craft made last season then he'll be a huge improvement. He also seems to be a capable game manager, accurate, and mature for his age.
Of course, he's still a freshman who will make freshman mistakes. In particular, an early season game at N
eyland Stadium
will test his mental toughness. I'm not expecting miracles from this kid, but I do think we'll be pleased with his progress by year end.
The offensive line will also be getting some fresh faces. I fully expect talented freshman Xavier Su'a-Filo and junior college transfer Ryan Taylor to be starting on the line by the end of the season. Sophomore Jeff Baca looks to have locked up a position with his determined play last year; the staff wants him at guard but he could play tackle again if other guys don't pan out.
The center position will be anchored by Kai Maiava, who should be back from an ankle sprain sustained at the end of spring ball. Maiava had rave reviews from the bleacher bums who watched him while he sat out last season. He's reportedly tough, angry, and aggressive ... everything you want in a center.
The rest of the line, in particular the 2-deep, isn't going to scare opponents. The best I think we could hope for is to find a consistent starting 5 players. Last season, the line was shuffled so many times I lost count. They won't be a particularly good squad, especially at the start of the season, but I think we'll again be pleased with the progress come December.
The running game is still a work in progress.
The staff really likes Christian Ramirez. So much so that he sat our all of the spring with an injury and still hung onto the #1 spot. Either Ramirez is that good or the rest of the guys are just that bad. I'm going to go with the former, as I watched all the backs in the spring and came away impressed. Especially freshman Jonathan Franklin, I think he could take over the starting slot with his speed and ability to find the hole.
Chane Moline is moving to fullback to complement Trevor Theriot. Chow likes using his backs as receiving targets, so I think both could see more action this year.
The receiving corps has the most depth and consistency on the team, which is good because almost every other position lacks those characteristics.
The star, if you could call him that, will be Terrance Austin. Back from a record setting performance last year in all-around yards, Austin should take on more of a role in the passing game. His speed has always been there, but he doesn't seem to get great separation. Of course, it would help if he could team up with a quarterback who could throw him a deep ball.
I like our big, tall targets. Nelson Rosario and Gavin Ketchum are both 6'4" and give Prince some jump ball opportunities in the end zone. Taylor Embree will again be the bastion of consistency. His super sticky hands are turning him into a go-to guy on 3rd down situations. Freshman Randol Carroll could end up being the fastest player on the team.
One guy I'm really excited about is Morrell Presley. He was probably one of the hardest workers on offense this spring. He went 100 miles an hour every play, even when he was making mistakes. I looks like a combo of J.J. Stokes and Marcedes Lewis. Not a true tight end, he'll line up as an H-back this season. I'm expecting big things from him.
The rest of the tight end picture is unclear right now. If Moya and Paulsen can stay healthy then they'll be huge additions to this team. If not then we could lack some depth with only Harkey having any playing experience.
The Bottom Line
Let's face it, this is part 2 of Neuheisel's rebuilding process. This team isn't going to win a ton of games this year, even with a more favorable schedule (I'll get to that in future articles about our opponents), and the offense will struggle again.
But the good news is that we've got a lot young guys who will be racking up a ton of experience this season. It wouldn't surprise me if the offense was staring as many as 6 underclassman by the end of the season. All of that is great for the future of the program.