Let's take a look at this 2008 recruiting class, position by position, and hand out some grades.
Quarterbacks:

B+
Nick Crissman
(QB)
Kevin Craft
(QB) JC
Kevin Prince
(QB)
Nick Crissman's stock went up this year, despite the fact that he missed a big chunk of his senior season due to injury. He has gained a good reputation as a tough competitor and someone who has a lot of heart and guts. There are some knocks on his mechanics (namely that he doesn't release the ball high enough) but I'm sure, under Norm Chow, this kid can develop into a pretty darn good quarterback. He has been a consistent performer in high school and he strikes me as smart and intelligent player. He won't be able to play very early, with two seniors ahead of him, but after a year or two of development in UCLA's system, he could be a serious candidate to start.
Kevin Craft was a surprise addition to UCLA's 2008 class. He was nowhere on our radar during the season, but Norm Chow and Neuheisel snatched him up from Mt. SAC. Craft is a nice stop-gap quarterback because the Bruins will be sorely lacking experience in 2009 after Olson and Cowan graduate. Craft will be a 23 (going on 24) year old senior by then and have a year of experience under Chow. I'm not expecting him to set the world on fire, but we've learned the hard way that you can never have too many quarterbacks. Craft is a solid find and a smart move by Neuheisel to fill a position of need.
Kevin Prince was a very late addition and I don't know if he factors in much. If he goes on his mission then UCLA will have to recruit him all over again in a couple of years. He is also coming off a bad knee injury and surgery, so he may gray shirt and not enroll until 2009. With so many unknowns in Prince's future status, I can't say if he really helps this class.
Running Backs:

A
Milton Knox
(RB)
Johnathan Franklin
(RB)
Aundre Dean
(RB)
Derrick Coleman
(FB)
This was a very contentious position for the Bruins. They were locked in a number of recruiting battles with some high profile schools like Notre Dame, Florida, USC, and Oregon. At the end of the day, UCLA came away with a very impressive group of tail backs.
Milton Knox has garnered comparisons to Maurice Drew because of his short stature and explosive running style. He has great vision and can change direction on a dime. Milton leaves Birmigham High School, and the Los Angeles city section, with a host of rushing titles. I'm really high on Knox and I think UCLA got a very good running back with this kid. He was heavily courted by Notre Dame and Florida, so you know he projects well to the college level.
Aundre Dean is a power running back who also brings some good speed. Dean is a real gamer and I think this kid could contribute right away. His final decision to attend UCLA came right down to the wire, but Neuheisel was able to swing Dean back into the fold by signing day... a real coup considering that many had written Dean off months earlier. It will be awesome to watch the one-two punch that Dean and Knox bring with their contrasting styles.
Johnathan Franklin is a great athlete and this kid was all over the field at the high school level. He projects in at either running back or safety and he definitely has a the talent to play either position. Derrick Coleman was recruited as a full back but he is a strong and powerful runner in his own right. In Chow's offense, he could see a lot more touches and passes than the full back received in Dorrell's system.
Tight Ends:

C
Cory Harkey
(TE)
Harkey is the only tight end to commit to UCLA in 2008. I don't think he is someone to get too excited about. He looks like a solid guy and someone who, given time, could develop into a contributer on offense. He doesn't bring any of the "wow" factor like Marcedes Lewis did back in 2002. The Bruins got a very good prospect, Nate Chandler, in the 2007 class. So this wasn't an area of need for the team. I'm sure coach Neuheisel will look for some more prospects to fill this position in 2009.
Wide Receivers:
B-
Jerry Johnon
(WR)
Antwon Mourta
(WR)
Nelson Rosario
(WR)
This is an area where many Bruin fans will lament over "what could have been". Kemonte Bateman was one of the first casualties for this class and an unfortunate loss for the Blue and Gold. It was well publicized that he was going to be a difficult one to get past admissions and I'm sure that was a factor in his decision to choose ASU over UCLA. Kevan Walker, DeWayne Walker's son, was also a late defection. He wasn't that highly rated, but being a coach's son you know he has a great football IQ. He ended up at Oregon State, so he'll get a chance to go against his Dad's defense sometime in the next few years.
There are no super-stars in this group, though Rosario could emerge as a key impact player. I think the Bruins may have found a real gem in this kid who is a giant target with a humongous wing span. He stands at 6' 6" and he was an elite jumper at the national level in track and field. He'll be an ideal red zone target for Bruin quarterbacks.
Offensive Line:

D+
Jeff Baca
(OG)
Connor Bradford
(OT)
OK, so not everything is peaches in this class. The offensive line was a real let down. Not to say that all the players are bad, they aren't, but the small number of commits and the lack of overall talent was a big disappointment. What makes this hurt even worse is that the Bruins really have a glaring need in this category.
What's kind of scary is that UCLA didn't pick up many guys in the 2007 class either. Only one kid committed last season, Mike Harris, and he wasn't that highly rated. The Bruins did pick up a number of guys in the 2006 class, including Micah Kia and Nick Ekbatani, but the other guys in that class (including Jake Dean, Sean Sheller, and Sonny Tevaga) haven't stepped up as serious candidates for starting time.
The absolute #1 priority in the 2009 recruiting class has to be offensive lineman, just to make up for the last two classes.
Defensive Line
:
B+
Dantone Jones
(DE)
Damien Holmes
(DE)
UCLA picks up two exciting defensive ends in Jones and Holmes. Both are strong and athletic and the Bruins definitely need a talent upgrade at this position. There is really no heir apparent to Bruce Davis, so Jones or Holmes could step into the rotation as true freshman. Jones is a big bruiser and he brings some much needed size to the line. Holmes is very athletic and explosive and he'll be tough for opposing tackles to contain on a pass rush.
What could have made this score better was a top-notch defensive tackle. The recruiting staff didn't pick one up before the season started and with the coaching shuffle, UCLA missed out on getting some big players.
Linebackers:
B
Patrick Larimore
(LB)
Donovan Carter
(LB)
Sean Westgate
(LB)
The first two linebackers UCLA picked up in this class are a very nice duo of bigger, more athletic guys. The Bruin defense has been undersized in recent years and both of these guys come in, as true freshman, weighting closer to 230 lbs. That is definitely a step in the right direction. Sean Westgate is a bit on the smallish side and he may end up moving into the secondary as a hard-hitting strong safety. What he lacks in size, he more than makes up for it in aggression and smarts.
What could have made this group even better was Uona Kavienga, who ended up signing with USC. He had a strong performance in the Under Armor All American game and his stock was through the roof right before LOI were signed. The Bruins really missed out on a good one.
Secondary:

A+
Rahim Moore
(S)
E.J. Woods
(S)
Anthony Dye
(DB)
Aaron Hester
(DB)
I don't think the Bruins could have asked for a better secondary than what they got in this class. Rahim Moore is a huge impact player for this team at the safety spot. He had an outstanding effort at the Army All American game and I could see him getting into the rotation as a true freshman. His tag team partner, E.J. Woods, is another highly regarded player. These two should carry on the tradition of UCLA as "Safety-U" for the next four seasons.
The defensive backs, Anthony Dye and Aaron Hester, are also great pickups for the Bruins. I don't know if either will see playing time really early but both are talented, quick, and intelligent players. When you factor in Courtney Viney, form the 2007 class, you have a threesome of defensive backs that should form an outstanding nickel package for years to come. All of this with Coach Walker teaching and developing these guys ala Alteraun Verner. It is very exciting.
Overall
:
B+
When you consider all the staff changes that occurred this off-season, it is impressive that Coach Neuheisel managed to pull out the class that he did. Unfortunately, a few key players jumped ship, and I can't give this class an A because of that. I also wanted to see much more in terms of offensive lineman and that didn't materialize.
At the end of the day, however, the Bruins got a very good class. It is definitely loaded more on the defensive side than on offense but there are quality guys on both sides of the ball. Make no mistakes about it, this is a group of players that are a big step-up over prior classes in terms of size and athleticism. With the coaching dream team recruiting hard for next season, expect even more talented kids to come to Westwood in 2009.
In terms of Rivals and Scout rankings, the Bruins fared very well:
Scout: #9
Rivals: #13
Here is the final recruiting "snap shot" that lists the final rankings by player and the class as a whole.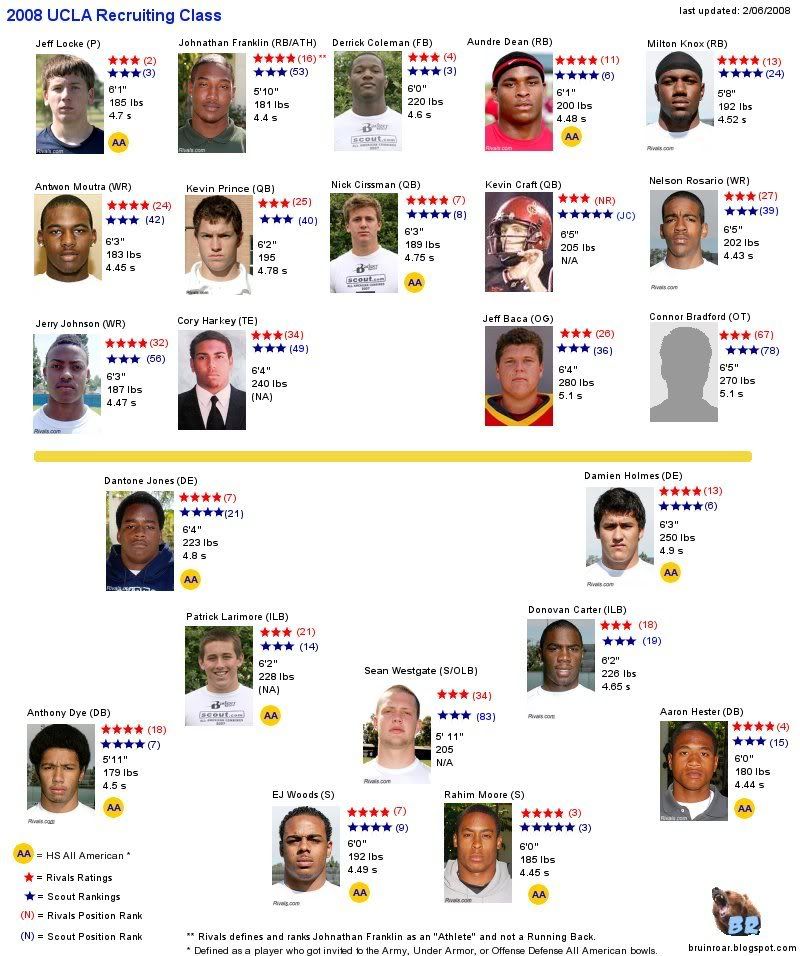 Click on the image and make sure you 'zoom in' to see the full thing.